Food
Edible flowers: the biggest food trend of the summer
by Mark Diacono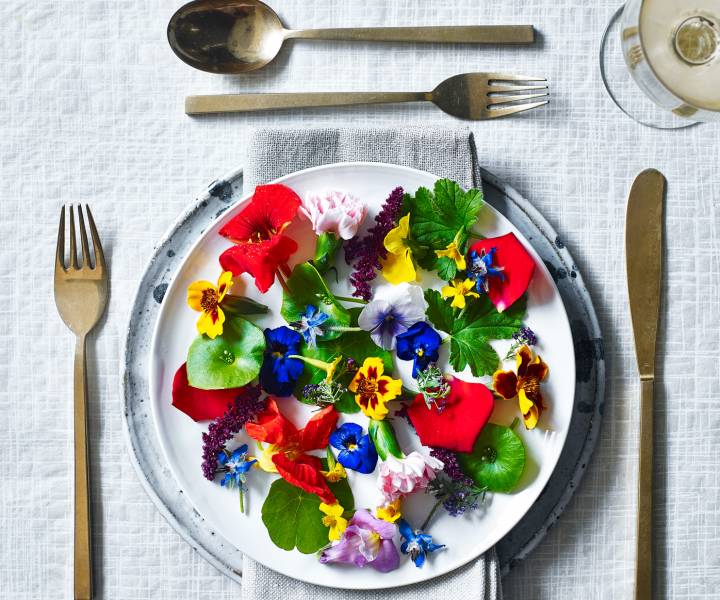 Image: Toby Scott
Edible flowers are like the missing triplet to herbs and spices. They lend interest to all manner of recipes and can even be the star of the dish.
We've been eating some flowers – cauliflower, globe artichokes and saffron – forever, but there's no denying edible flowers are having a moment. Restaurants are using everything from borage to courgette flowers to add sparkle, while Instagram is awash with crystallised blossoms.
If you've even a vague inclination to grow some of what you eat, edible flowers are a good place to start.
They are easy to grow* – a sunny windowsill is usually all you need. Herb flowers are ideal – rosemary, sage and thyme flowers all carry a milder version of the leaves' flavour. Or you can buy a seasonal pack of mixed edible flowers from selected stores at the height of summer, or from Maddocks Farm Organics. Here are a few that could soon become indispensable in your kitchen:
Violets
Violets are among the most beautiful, delicate flowers to use in the kitchen, and the slightly sweet viola heartsease – with its gorgeous small purple, cream and yellow flowers – is, to my mind, the finest.
When does it flower? All but the coldest weeks of the year.
What does it taste like? Violets carry a very gentle pepperiness alongside a fresh green flavour. Heartsease has just the right balance of sweetness too.
How to grow it: Sow the seed direct over the soil between April and August, or start in seed trays from February, if you're keen to get ahead..
How to use: Violets are very versatile – they can't be bettered as a crystallised flower on cakes, they add a dash of sweet pepper to leafy salads and add an extra dimension to any cocktail.
Marigolds
Reliable and simple to grow, pot marigolds' petals brighten the plate as much as your garden or windowsill. Not to be confused with the inedible African or French marigolds, pot marigolds (Calendula officinalis) have narrow eye-shaped petals radiating around their centre, most commonly in striking orange.
When does it flower? ​April-September, earlier if grown undercover.
What does it taste like? Gentle pepperines.
How to grow it: Buy a young plant and grow in a pot, or sow seeds from spring.
How to use it: As well as adding visual appeal and a gently peppery flourish to both leafy and fruit salads, the flowers release their golden colour and gentle flavour into warm butters and oils. Make a loose paste by warming a small handful of petals with a few tablespoons of oil – this 'poor man's saffron' is fabulous added late to paella for the final simmer, and drizzled over soups.
Borage
It's almost a lie to say you grow borage: sow it once and you have it forever, as it needs no encouragement whatsoever to grow. Commonly with blue flowers but also in white, borage's star-shaped flowers carry a cool, gentle cucumber flavour, as do the leaves. It flowers abundantly over a long season. Even if you have only a rough square of ground or a medium-sized pot at your disposal, borage will thrive.
When does it flower? March-October.
What does it taste like? Like the freshest, coolest cucumber.
How to grow it: For all its flowers' delicacy, borage is a tough little devil, elbowing its way into the light early in spring and only recoiling at the coldest of frosts. Sow a handful of seeds directly into the soil in autumn for flowers from spring, or sow in spring for summer flowering. It self-seeds readily, so expect joyful reappearances around your garden.
How to use it: In a leafy salad; afloat in a Martini, Pimm's or any number of summer cocktails; strewn over fish and seafood dishes just before serving. Freeze them in ice cube trays when at their most abundant, so you'll have a supply all year.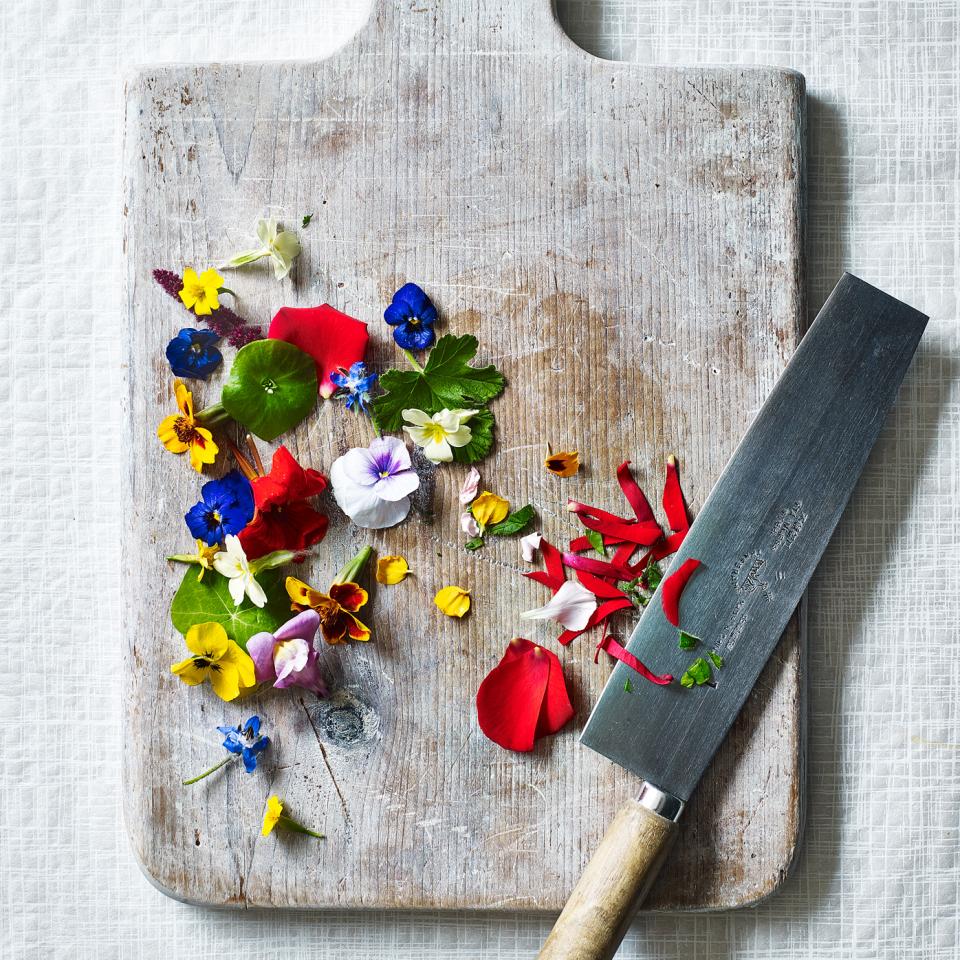 Image: Toby Scott
Nasturtium
There are so many reasons to allow nasturtiums a little of your garden. Every part of the plant is edible – the seeds (very like capers when pickled), the leaves (best young, in salads, or made into a bright peppery pesto), and the flowers. They also bring beneficial insects to your garden and self-sow readily (just pull up any you don't want), so you'll never need to buy seeds again.
When does it flower? May-September.
What does it taste like? The unravelling of rocket, honey and peppery flavours is quite unlike any other taste experience. Yellow flowers tend to be mildest.
How to grow it: All you need to grow nasturtiums is a packet of seeds and enough energy to cast them after the last frost in the direction of where you'd like to pick the flowers. They'll grow happily in a pot, too.
How to use it: Nasturtium flowers are fabulous strewn through spring and summer mixed leaf salads; deep-fried, like courgette flowers; or in nasturtium flower butter (superb with new potatoes or with fish), made by mixing shredded petals and a little lemon zest into a pack of softened butter.
Geraniums
…or scented pelargoniums, to use the proper name, are fleshy-leaved reminders of 1970s window boxes, but the seemingly endless variations in scent make them a must-have edible flower. It's the leaves rather than the flowers that carry the scent, and if you grow only one type, let it be rose geranium. Rub the leaves and your fingers will smell of Turkish Delight.
When does it flower? May-September, but you can also use the leaves.
What does it taste like? Anything from rose to lime to hazelnut to nutmeg
How to grow it: Buy a young plant and grow in a pot, bringing undercover for winter.
How to use it: Line a cake tin with the leaves to infuse the cake mix with their flavour, or make a syrup by dissolving an equal weight of sugar in water and adding a handful of leaves to it as you take it off the heat. Remove the leaves when it's the strength you fancy. Drizzle over cakes and ice cream or mix with six parts Prosecco for a wonderful spring-into-summer drink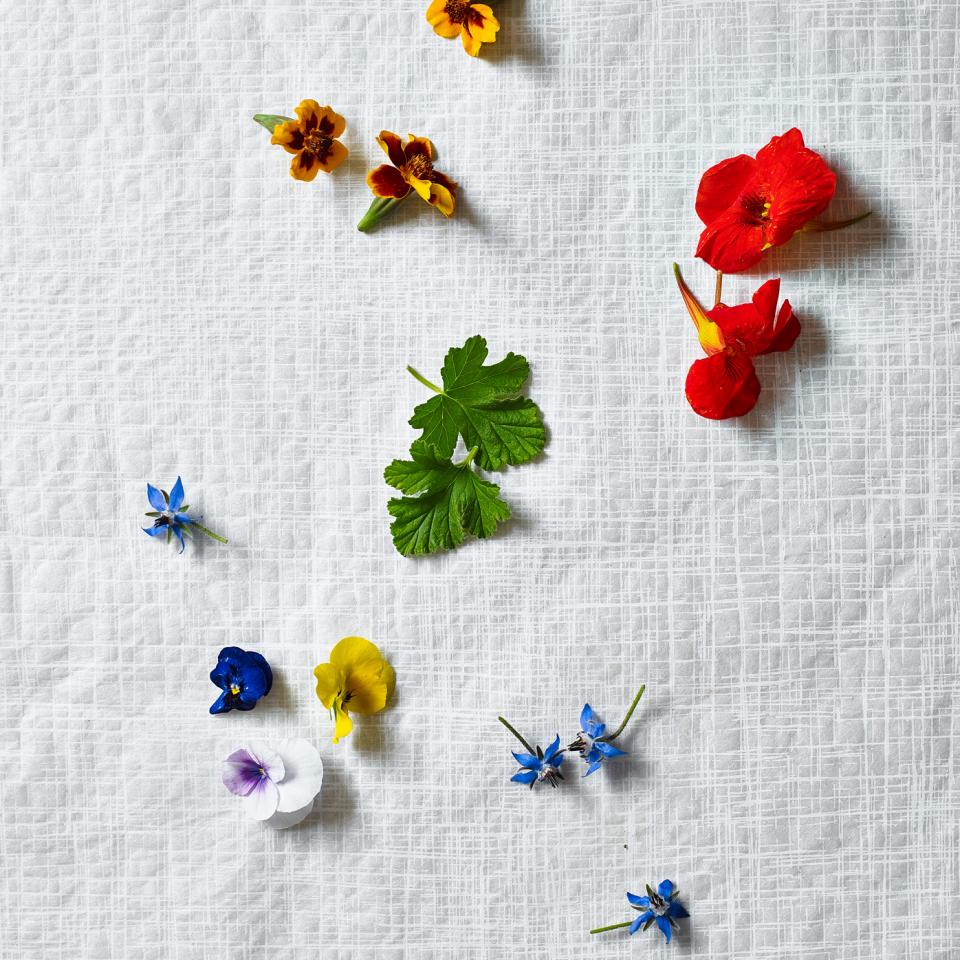 Image: Toby Scott
How to make crystallised flowers:
Crystallising captures the flower at its peak, extending the lifespan of its beauty and flavour. It works equally well for herb leaves.
1. Whisk a large egg white until it forms a light foam, then whisk in half a teaspoon of vodka.
2. Using tweezers to hold the flower at its base, gently paint the petals sparingly with the foam, using a clean artist's brush.
3. Scatter lightly with caster sugar, or use a sieve or tea strainer to dust an even light coating of icing sugar over the flower. Leave to dry on baking paper in a cool place.
4. Once crisp, the flowers are ready to use to garnish fruit salads, decorate cakes, ice creams or cocktails. They keep for about 5 days, but store them covered loosely with kitchen paper rather than in an airtight container, so they don't go soft.
Ready to cook? Don't miss these delicious ideas:
Rose-scented cake with crystallised flowers
* Don't use garden sprays on flowers that you plan to eat.
Don`t miss

---