Food
What to drink with your curry
by GuestUser
Curry and lager is the pairing we're all familiar with, but when I went to French-influenced Indian restaurant La Porte des Indes in Marble Arch to celebrate National Curry Week, I was sipping wine. What a maverick!
Executive chef Mehernosh Mody showed us how to cook some of his top dishes, while the restaurant's drinks expert, Jackie, was on hand to offer us wines that she'd specially selected to go with each dish.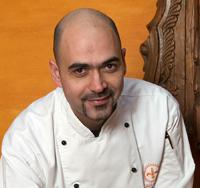 'You can never hurry a curry,' says Mehernosh
PERFECT PAIRINGS:
PARSEE FISH with AUSTRALIAN RIESLING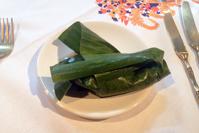 Parsee fish
Mehernosh created a delicate parsee fish starter, made with fresh lemon sole and a fine coriander and mint chutney steamed in a banana leaf. To go with this, Jackie paired an Australian Riesling (Founders Block Riesling 2009, Katnook Estate, Coonawarra).
MY VERDICT: I'm not normally a fan of Riesling grapes as I find they can often be too sweet, but this dry variety with a hint of citrus was the perfect partner to Mehernosh's mint and coriander chutney. The fragrant wine's acidity means it is great with bolder flavours and strongly spiced dishes.
CHICKEN ACHARI
The flavour-packed but won't-blow-your-head-off chicken achari was served with naan and khumb saag (spinach and mushrooms). Jackie gave us a choice of two reds – a juicy French Beaujolais (Brouilly, Chateau de la Perriere 2012 Duboeuf) and a rich New Zealand Pinot Noir (Coopers Creek Pinot Noir 2011, Marlborough).
MY VERDICT: I preferred the fruity Beaujolais when I tasted the wines on their own, but edged towards the bold complexity of the Pinot Noir when paired with the food – though I was sat beside someone who had the opposite response. The great thing is that there are no right and wrong answers – it really does come down to personal preference.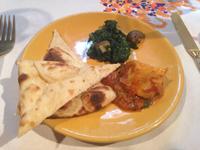 Chicken achari with khumb saag and naan
It was so interesting to experiment with how food changes the way your palate responds to wine, and I couldn't believe what a great combination a robust red could be with a gently spiced curry – turns out, it could be time to ditch the pints of lager... At the curry house, at least!
Have a go yourself
Lessons cost £60 per person and take place at La Porte des Indes (laportedesindes.com) in London on the last Friday of each month from 12pm-1.30pm. You'll also enjoy a complimentary three-course lunch after the demonstration and will receive a certificate of participation and a spice sachet to take home with you.
Don`t miss

---