Food
Dine in at the fishmongers
Make a trip to the Prawn on the Lawn fishmongers in Highbury, north London, and you'll get much more than just the catch of the day.
Bright-eyed proprietor Rick Toogood has transformed his fishmongers so you can now eat fresh fish, right inside the shop. He's created a stylish snack bar featuring a menu of the freshest fish and seafood dishes including their signature Prawn on the Lawn: homemade soda bread, buttery avocado and pearly pink prawns.
As you walk in...
Prawn on the Lawn first catches your eye with its spectacular fish counter. John Dory, red snapper, chunky sides of pollack, wild sea bass, delicate lemon sole, squid, lobster and langoustine: they all glisten and gleam nestled on their icy bed. And fish doesn't get fresher than this: Rick's colleague, Nigel, based in Brixham, south Devon, sources the fish at daybreak, before packing it up for the daily delivery at 7am.
Dine in...
Sitting down to eat in what is essentially a fishmongers is unusual, but surprisingly it works. Regular customers discuss the day's catch with Rick and create a lively sense of community. Quirky details, such as old ship lanterns, vintage tin signs and even iron scales, where your chosen dishes can hang beside you, are fun and different, while the candle-lit bar makes it all rather romantic.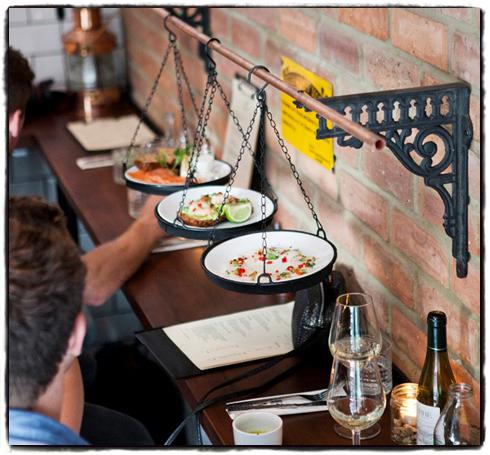 The menu...
From the menu (which changes daily), we sampled: smoked haddock Scotch egg, with that all important runny yolk; delicate razor clams sprinkled with chopped ginger, garlic and chilli; rich, creamy scallop roe taramasalata (pictured above) – an inventive twist on the better-known cod roe dip; and finally Maldon rock oysters – silky smooth morsels submerged in sparkling clear salt water.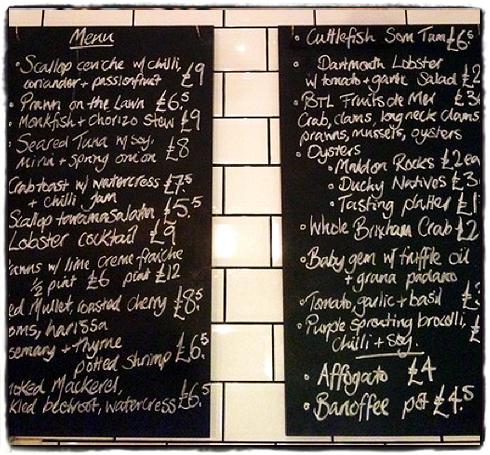 And to drink...
You can sip Champagne, G&Ts, a glass of Camden beer or the most unbelievable wine. Don't leave without trying the white Fasto Verdejo, from Rueda; it's so fruity, you'll think it's made from freshly pressed passionfruit!
Is this the future?
Will this be the pattern we see with all our traditional high-street stores? Dine in with a rare-breed burger at the butchers? I'm certainly hoping the idea takes off – getting to know your local shopkeeper, while indulging in top-quality, passionately sourced food, is a fine idea and could be the start of something special.
About the author