Food
How to make the perfect crumble
by Tamsin Burnett-Hall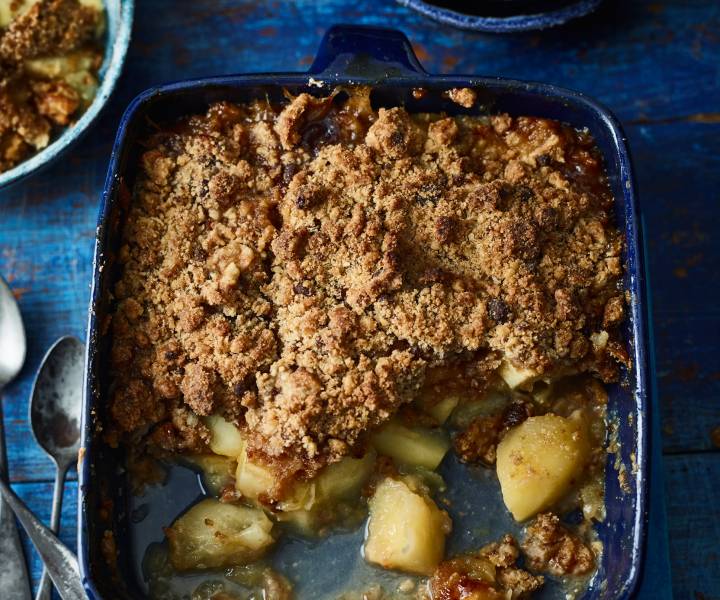 Image: Dan Jones
Let's get ready to crumble! Don't miss our 9 top tips for making the perfect crumble...
1. For the best texture, make your crumble by hand rather than with a food processor. It only takes a few minutes and gives a rougher crumb that crisps up deliciously.

2. While really firm fruits like Bramley apples benefit from being lightly cooked first, for most crumbles, you can simply add the topping to uncooked fruit.

3. Adjust the amount of sugar you add to your fruit to taste, depending on how sweet or sharp the fruit is. You want a good degree of tartness to contrast with the sweet crumble.
4. Don't press the crumble down firmly, or it will become cakey; simply scatter over the fruit.

5. Different sugars yield different results. Demerara gives a really chewy, slightly crisp topping; light muscovado or soft brown sugar lends a fudgy flavour and texture, while caster or granulated sugar results in a shortbread-like crumble.
6. Customise your topping: try adding 50g ground almonds to a basic crumble topping; roughly chopped nuts, oats, crushed gingernuts or other biscuits; spices such as ginger; or little chunks of fudge.

7. Make up a double batch of crumble topping and freeze half ready for a quick pud – no need to defrost before baking.
8. If you're making apple crumble, mixing cooking and eating apples gives a lovely combination of textures and flavour.
9. Crumble topping keeps well in the freezer for 2-3 months – and can be used straight from frozen.
Ready to crumble? Don't miss our best crumble recipes.
Don`t miss

---