Food
Quick ideas for cooking with cranberries
by Emma Franklin
Cranberry juice has been a daily part of my life ever since the 1980s when it was touted as the latest miracle cure for women's health and my mother started making me drink a glass every day with my breakfast. But, despite my love for the intense tart flavour, cranberries just aren't something I cook with much, and I don't think I'm alone.
In the States however – where the bouncy red berry* hails from – cranberries sneak into all sorts of things, both sweet and savoury, from drinks to stews and everything in between. At the recent RHS Hampton Court Palace Flower Show (where they created the stunning sea of cranberries pictured above) cranberry grower Adrienne, who produces fruit for the Ocean Spray co-operative, shared the following ideas to inspire cranberry-eating novices:
• Add dried cranberries to biscotti with your favourite nuts
• Brush cranberry sauce onto pork fillet before roasting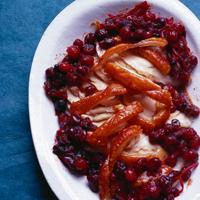 • Make an Asian-style coleslaw by swapping the mayonnaise for a dressing of red wine vinegar, oil, a pinch of sugar and soy sauce, then add dried cranberries and slivered almonds
• Coat meatballs in cranberry sauce then bake slowly to glaze
• Toss cooked wild rice with balsamic vinegar, mandarin segments and dried cranberries
• Whizz cranberry juice with stem ginger, lime juice, sugar and mint to make a cranberry mojito (rum optional!)
• Mix chopped walnuts, dried cranberries and white chocolate chunks into cookie dough before baking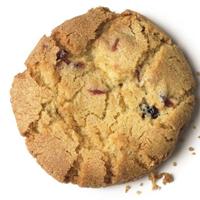 • Use cranberry sauce as the base for a tart and tangy barbecue sauce
• Make a side salad of mixed leaves, goats' cheese, dried cranberries and a simple vinaigrette
*DID YOU KNOW? When harvested, cranberries literally bounce their way up a collection shoot into the farmer's hands! If they don't bounce they aren't good enough to eat and don't make it off the farm.
What do you like to make with cranberries? We'd love to hear your ideas! Use the comment box below...
Don`t miss

---