Food
Cook the books – Cabana the Cookbook
by Michelle Dickson
Cabana the Cookbook (Brasilian barbecue & beyond) by David Ponte, Lizzy Barber & Jamie Barber (Quadrille, £20, published 2nd June)
Cabana the restaurant is a family favourite eating destination for me. My three teens all love their spicy barbecued skewers and we're almost regulars in London branches of this Brasilian (s not z, that's how it's spelled by the natives) beauty from Stratford to Covent Garden and beyond.
So, the thought of being able to recreate some of their delicious dishes at home was a no-brainer. Grilled fish and meat in delicious marinades feature in abundance in Cabana the Cookbook, but there are also great sides and salads, plus sweet and savoury pastries and a chapter on cocktails and refrescos.
Spicy Malagueta Chicken
I opted to cook the dish I always order in the restaurant – Spicy Malagueta Chicken, which is basically chicken in a fairly fiery marinade with a yummy honey mustard glaze.
The book is filled with recipes that just cry out to be made on a sunny summer's day on the barbecue, but this chicken dish can also be cooked on a griddle pan, as I did, or under the grill.
The marinade calls for malagueta chillies (a specific Brasilian variety similar to the Portuguese piri-piri), but I substituted small red chillies and left the seeds in to boost the heat and flavour. The recipe does say you can remove the seeds if you prefer a milder flavour.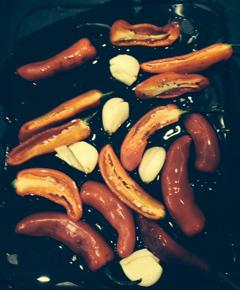 Sizzling chillies
Making it was easy – the chillies and garlic are roasted in oil before being whizzed in a processor with the other ingredients and added to the chicken thighs to marinate for at least 4 hours. I was (most unusually) organised enough to do this the day before, so the chicken had all night to bathe in the spicy sauce and soak up the yumminess.
Just before cooking, the chicken thighs are threaded on to skewers with slices of red pepper before being basted with the honey glaze. (The book recommends serving with Sweet Potato Fries, but we had rice instead.)
So, did my chicken taste anything like the lovely Cabana version? Well, even if I say so myself, it was pretty damn good...Forget it Roy and the boys, my family could well be swapping allegiance this World Cup, because we're definitely going Brasilian!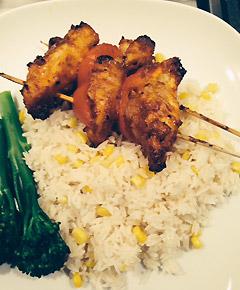 Don`t miss

---