Food
Christmas dinner masterclass
by Sarah Alcock
You might think it's too early to think about Christmas dinner. But if you're the person in charge of cooking and you're not well practised in the art (because it really is an art), then you might want a dry run. A little robin told us about the Christmas Rehearsal from Cookery School on London's Little Portland Street. This one-day class covers everything you need to cook the perfect festive feast. Intrigued, we hotfooted it down to the school to find out if we, too, could avoid turkey tears and fruitcake fears.
Here's what we covered with Roz, the Cookery School's principal...
Roasting
turkey
until it's succulent and moist; how to get the fluffiest, crunchiest roast potatoes; prepping stuffing and
bread sauce
for the freezer; and brandy-infused Christmas
cakes
and mincemeat to take home...
There's no doubt the day is intensive and you'll be hit with a barrage of culinary tips and knowledge. Roz is only too happy to answer questions and to help you get rid of any pre-cooking nerves. At the end of the day you can tuck into the fruits of your labour and serenely sip Cornish Tregothnan tea (served in Downing Street, no less) knowing that half the work is done.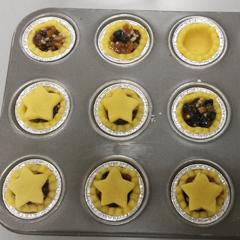 TOP TIPS
In case you can't wait, here are the best tips we picked up from Roz for the best-ever Christmas:
ROASTIES:
• Maris Piper or King Edwards are the best spuds for roasties. Roll them in oil until completely coated before roasting, but don't use too much or they won't go crisp.
• Turn your spuds halfway through cooking to ensure an even result. A palette knife is best to lift any stuck to the roasting tray.
STUFFING:
• Use a little cream to bring your stuffing together (egg makes it sticky).
BREAD SAUCE:
• Infuse the milk in your recipe with an onion studded with cloves. Slowly bring to the boil, then take off the heat and leave for half an hour or so.
CHRISTMAS PUD:
• Steam your Christmas pud in the oven while the turkey's roasting. It's environmentally friendly and will help keep the turkey moist.
CHRISTMAS CAKE:
• For a flat top on your Christmas cake, make a dip in the middle of the batter before it goes in the oven.
• Decorate your cake with pecan and walnut halves before baking and coat with a glaze of apricot jam loosened with a little water.
BRANDY BUTTER:
• Beat the butter and sugar together in a warm bowl so the two combine more easily.
The Christmas Rehearsal is on Saturday 29 November 2014 from 10am-4pm and costs £230 per person. For more information or to book your place, visit: cookeryschool.co.uk
You could win a place for you and a friend to attend the Christmas Rehearsal class. ENTER OUR COMPETITION NOW >>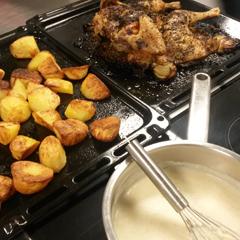 Don`t miss

---