Food
Chocolate with chia, goji and maca? Yes, say the boys from Doisy & Dam, a new healthier sweet sensation
Before they became artisanal chocolate makers, Ed Smith and Richard Wilkinson worked respectively in marketing and finance. They named their company after two Nobel Prize-winning scientists, and their 'superfood' chocolate combines cacao nibs and vanilla with ingredients like mulberries, chia seeds, maca, goji berries and orange. They tell us about their life in food – and why provenance really matters.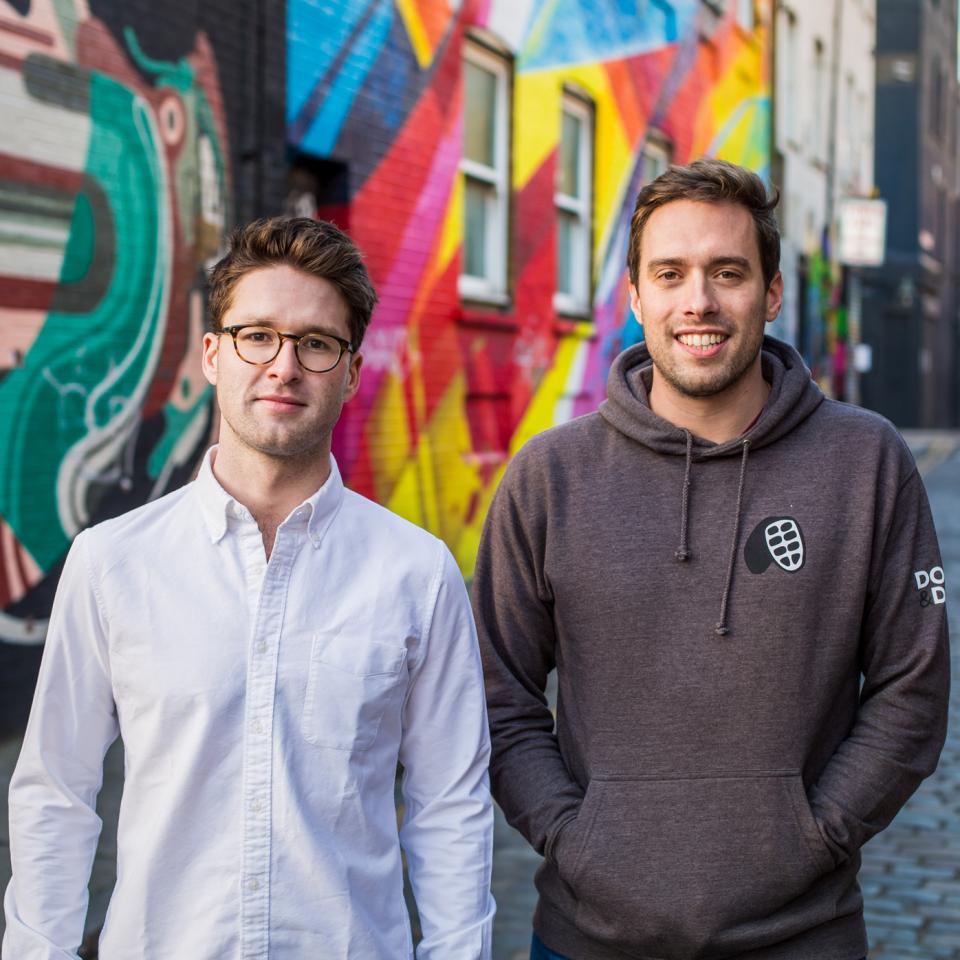 What prompted you to make the switch from corporate life to food production?
Ed: Food – especially indulgent treats – has always been a passion for both of us, but we have a passion for business as well. So it made sense for us to combine the two, especially because we were getting a bit fat from all the treats, working long hours in sedentary jobs!
Richard: I grew up eating anything and everything because my parents forced it on me! My grandma making me eat tongue is not something I'll necessarily revisit but I always want to try everything on the menu and if something is weird and wacky, I will order it.
Where did you get your idea?
Ed: Our initial idea was to use 'superfoods' to make a range of better-for-you treats like brownies, ice cream cookies and chocolate. But since our start-up funds were fairly limited, we decided to focus on one thing and became completely obsessed with chocolate. We're not exactly chocolate snobs, but we are connoisseurs and are really focused on creating new and interesting products. But everything we make revolves around chocolate and it's safe to say that we love the stuff!
What was your aim?
Richard: We're trying to make people aware that chocolate can be a healthier treat. There is a general movement around food becoming healthier and we wanted to make chocolate that was delicious and indulgent but didn't contain anything unnecessary – like preservatives, emulsifiers or vegetable fats. We don't describe ours as 'healthy' chocolate because everyone's definition of healthy is different and we do use some sugar, although only the bare minimum. But we are the 'clean' option when it comes to artisanal chocolate. Everything is organic, and our milk chocolate is 39% cocoa solids, which is twice as much as some brands.
What inspires you?
Richard: We want all of our bars to have a taste, a texture and a 'superfood' – in one bar we've used vanilla for the taste, raw cacao for crunch and maca for its healthy properties. Our other bars include mulberries, black sesame and spirulina, cacao nibs, and goji and orange.
Ed: Provenance is very important to us too. Packaging, labour and everything to do with our manufacturing comes from the UK. But obviously things like goji berries only grow in tropical countries, so our 'superfoods' come from countries all around the world and we have agents who source them for us. We sampled chocolate from everywhere – from South East Asia to Madagascar – but we decided on single-origin Dominican chocolate, which was the best fit in terms of taste, and also because it's ethically sourced. The way the farmers are treated and the way the supply chain works is really important to us, and everything we do is around using business as a source for good.
Do you ever get tired of tasting chocolate?
Ed: When we started, we sampled constantly. It was just the two of us and we were eating two or three bars a day each and inevitably we ate a lot! Now we have a team of amazing samplers to do that for us, but we still love tasting chocolate. Our intake comes in waves – our response is to up our exercise regimes. I run three times a week and we've recently started climbing too.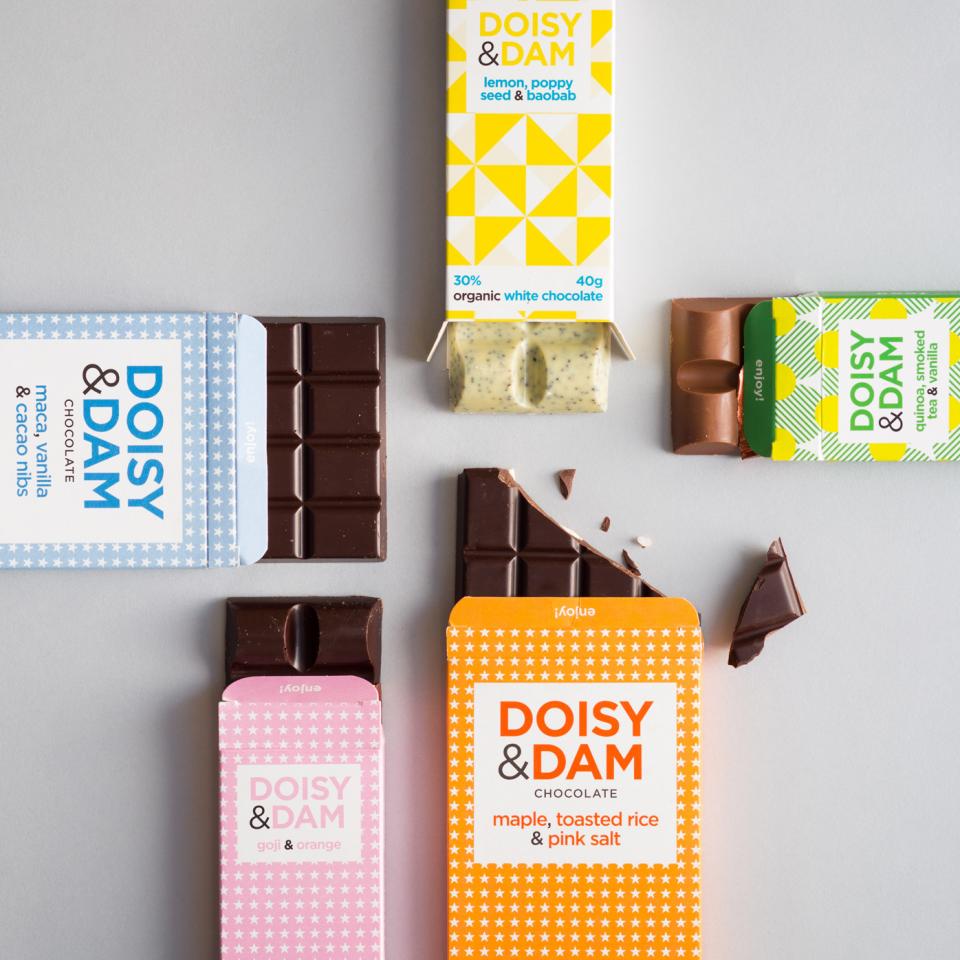 You started small but you're now stocked in stores nationwide. How difficult was it to 'scale up'?
Ed: We grew a lot last year and it was a painful but fun learning experience! But we are still artisanal and handmade. And we source all our ingredients ourselves, so even though we are growing we make sure we know the provenance of everything from beans to goji berries. Our chocolate is still mixed by hand, moulded by hand, and hand–packed. The main difference is that the size of the batches has grown.
Richard: When we launched in October 2013, we were riding round on bikes to independent stores in London and selling the bars from our panniers. We did the packaging ourselves and although we work with a designer now it looks pretty similar – just more professional! A lot of shop owners took a punt on us. Our legs couldn't take us round the city quick enough, so after four months we found a wholesaler willing to take us on and handle delivery for us. That was when things started growing.
How many bars of chocolate do you produce a week?
Richard: Our first run was 500 bars in three flavours, so 1,500 total. Now we make 100,000 bars a month and have recently made our millionth bar. The chocolate is made in a factory in the Peak District, where we go at least once a month.
How has people's view of chocolate changed over the past few years?
Ed: People are becoming so much more educated about what they buy and eat. They want to know more about what they are putting in their basket and they are much more interested and aware of where and how food is produced. And they are starting to ask questions, which is great for a company like us – we are completely transparent, open and honest about provenance and it's incredibly important to us that we never cut corners. Yes, we are slightly more expensive but that reflects what goes into the chocolate and how it's made.
What's the feedback about your unusual flavour combinations?
Richard: We do 'samplings' all the time with a dedicated band of testers and when we get feedback we implement it very quickly. So, for example, we heard that there were too many poppy seeds in our lemon, poppy seed and baobab flavor, so we reduced them. And people wanted more orange in the orange and goji flavour so we did that too. We love a bit of feedback!
About the author