Food
Chilled honeydew, cucumber and mint soup
by Sarah Alcock
It's safe to say that we're not dreaming of shepherd's pies and hearty stews for dinner in these crazy temperatures. Instead we're craving something refreshing and cool as a cucumber...
As big fans of food blogger and seasoned traveller Tori Haschka and her blog eatori.com, we often check up on her latest recipes and stories. Last week, we came across this chilled-out soup and couldn't think of anything more refreshing to round off a rather hot and sticky day!
Tori says, 'It's a doddle to whip up in a blender or food processor and store in the fridge for a light lunch or elegant starter. A few rosettes of smoked salmon or trout in the centre add a special touch, but if you want to keep it vegetarian, just the hazelnuts add a nice element of contrast.'
Do you make chilled soups? What's your favourite flavour? Tell us in the comments box below.
Chilled honeydew, cucumber and mint soup
Serves 4 as a starter or light lunch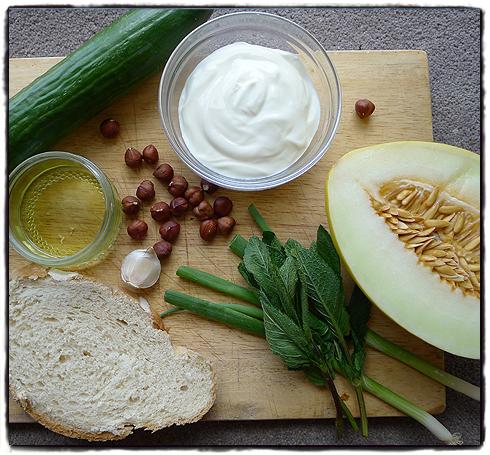 Ingredients
½ honeydew melon, seeds and rind removed and cut into rough 2-3cm chunks
a 2cm-thick slice of soft white bloomer loaf (or 550g soft white breadcrumbs), torn into pieces
1 cucumber (around 300g), cut into rough 2-3cm pieces
200g Greek yogurt
3 tbsp mint leaves
3 tbsp good-quality olive oil
1 garlic clove, peeled
2 spring onions or shallots, finely diced
2 tbsp roasted hazelnuts, skins removed and halved
4 pieces of smoked salmon or smoked trout (optional)
Method
Place the melon chunks and torn bread in a food processor. Blitz until smooth.
Add the cucumber pieces. Blend until smooth.
Add 135g yogurt (reserve the other quarter for garnish), half the mint leaves and 2 tablespoons of the olive oil (reserve one for drizzling at the end). Blitz until smooth.
Taste the soup and season. Chill until serving.
To make the garnish, grate the garlic clove into the remaining yogurt. Portion the soup into bowls. Cut the remaining mint leaves into ribbons.
Garnish each bowl with a spoon of the garlic yogurt, some mint ribbons, diced spring onions or shallot, and the hazelnuts.
Add some wafts of smoked salmon or smoked trout to the centre, if you like. Drizzle with good olive oil and serve cold.
Don`t miss

---