Food
Burger revolution: how vegan burgers had a makeover
With juices dripping down my fingers and hot cheese spilling out the sides of the sesame seed bun, biting into a burger at celebrity chef Gizzi Erskine and supermodel-turned-nutritionist Rosemary Ferguson's restaurant F!lth is a delicious, indulgent experience. In fact, it's so good that even David Beckham popped in for a bite, branding the burger 'insane' on his Instagram account.
But there's a secret to this burger you'd never guess just from looking at it – it's 100% vegan. Rewind a few years and 'vegan burger' was not an attractive proposition; usually a sad, shrivelled little bean burger hovering on the edge of a barbecue. But now, there are more than 600,000 of us turning to a plant-based diet in the UK, according to the Vegan Society. Celebrities such as Beyoncé, Arnold Schwarzenegger and Liam Hemsworth are also vegan converts and, not willing to trade in taste, they're demanding better food choices – which includes proper burgers. The global market for plant-based foods jumped by more than 20% last year to $3.7 billion, according to the Good Food Institute. In the UK, chefs across the country are stepping up to the challenge, creating brilliant burgers that deliver every bit as much flavour as their meaty counterparts.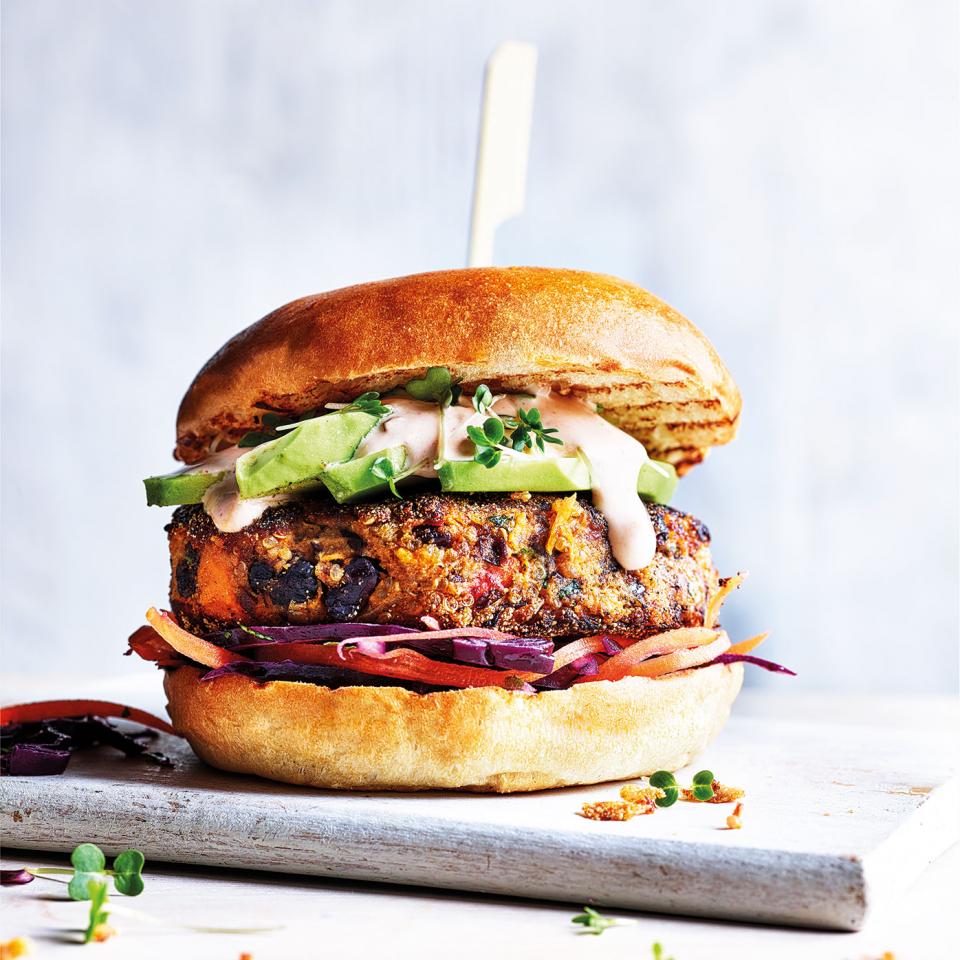 At Anna Loka restaurant in Cardiff, the beetroot and cashew patty has wowed critics; Patty Smith's in Leeds is famous for its burger made from deep-fried jackfruit, a south-east Asian plant that has a very meaty texture. But it's not just vegan cafes: national chains are getting in on the act, too. TGI Fridays – a chain synonymous with a Friday-night burger – launched its 'bleeding' (thanks to its beetroot juices) vegan burger at the start of the year. Healthy fast-food chain Leon says that demand for vegan food has increased by 21% in the past year, and that at the moment, its beetroot and soy-based Love burger is one of its best sellers across its restaurants nationwide. Veganism is filtering down to what we serve up at home, too, including what will be on the barbie this summer: Sainsbury's recently introduced the Smoky 'Jack' Quarter Pounder, again made from jackfruit.
The science behind these burgers is pretty clever. Gizzi Erskine's F!lth burger is the product of endless testing, with the final patty made from black bean, black lentil, and non-GMO soy, encased in a beetroot sesame bun, with a gooey 'cheese' flavoured with American beer. While this might feel 'out there' for the traditional barbecue-loving meat eater, it's nothing compared to what has been happening in the US. Two companies, Beyond Meat and Impossible Foods, have dramatically changed the US meat-free scene since they launched in 2016 by creating plant-based meat alternatives in high-tech lab environments and have celeb backers including Bill Gates and Leonardo DiCaprio.
Impossible Foods, for example, employed a team of more than 100 scientists and researchers who spent years trying to recreate the smell, texture and taste of meat for their first product, the Impossible Burger. Their key discovery was one crucial molecule – heme – which not only delivers the flavour and smell of cooked meat, but also means that when you bite or cut into the patty, it 'bleeds' like meat. The company now produces 500,000 pounds of burgers that are served at more than 5,000 restaurants in the States and has won fans including celebrity chefs David Chang and Michael Symon, known for their meat-centric restaurants. And it's not only vegans who are enjoying these burgers, but people who just want to cut down their meat intake. Often, that's due to health concerns; a recent report by an international commission recommended that we all reduce our meat intake by 77%.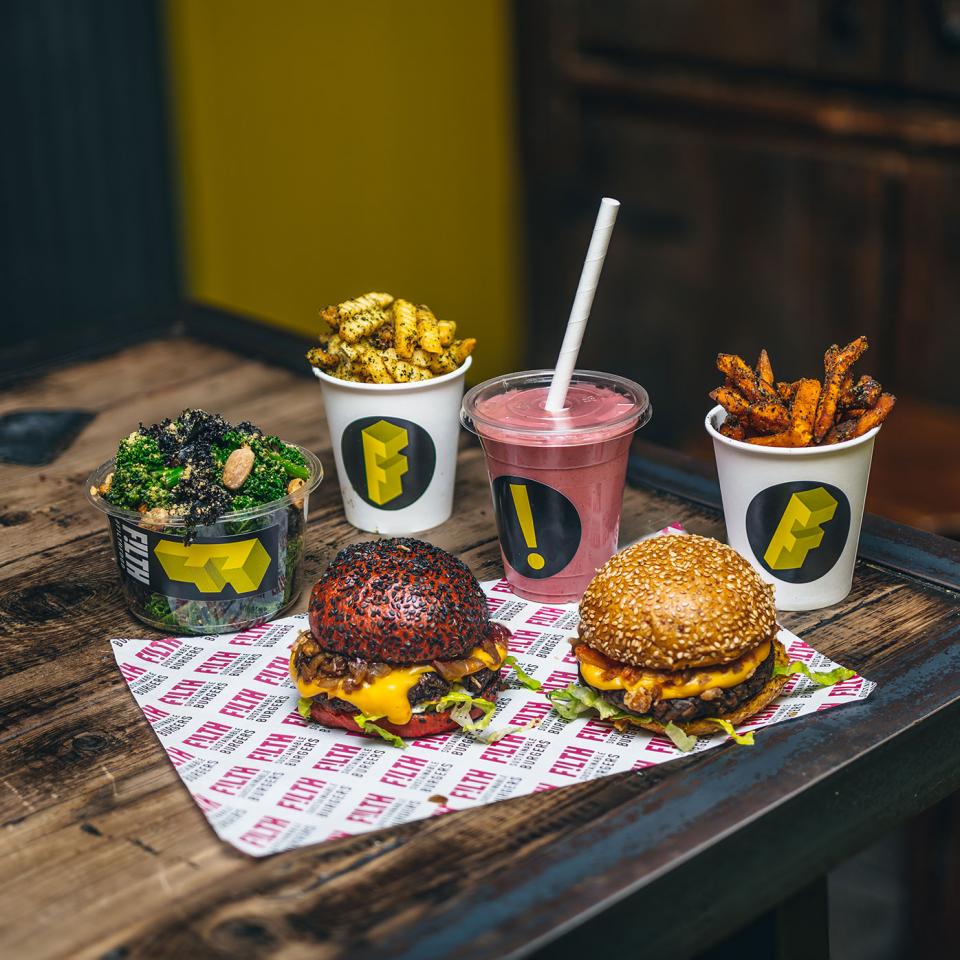 'Eating a plant-based diet means your intake of fibre is higher, lower in saturated fat, high in phytonutrients, great for cholesterol, anti-inflammatory, balances blood sugar levels and is hydrating,' Rosemary Ferguson explains. But people are also increasingly worried about environmental issues surrounding our meat-eating habits. As the world's population increases to an estimated 9.5 billion by 2050, we're going to need 60% more food just to survive, according to the Biotechnology and Biological Sciences Research Council (BBSRC). And yet, according to the UN, livestock is responsible for 14.5% of greenhouse gases and is a large user of natural resources. 'More people understand the health implications of eating too much meat and how it affects the environment,' Gizzi Erskine says. 'I am not vegan, but I am an environmentalist and active in animal welfare and how we eat.
We cannot deny that eating more plants is better for the world and your body. If everyone cut back to eating meat from sustainable sources a couple of times a week, we would soon be in a better place.' There are those who argue that while they might save the planet, vegan burgers aren't always good for your health. A recent investigation by the Mirror newspaper found that some vegan meat offerings can contain more saturated fat than two McDonald's Big Macs (thanks to the use of coconut oil to create a juicy patty), or are high in sugar and salt. They found that Moving Mountains B12 burger has 20g saturated fat per patty – the entire recommended daily limit of saturated fat for women. 'Veganism doesn't necessarily mean a healthy diet,' Leon co-founder John Vincent warns.
'You can easily eat an unhealthy vegan diet,and not all plants are good for us.' But we are at the start of a re-education programme, and vegan burgers are just the beginning. Like Gizzi, John doesn't believe that we necessarily have to be vegan – but we do all need to look at increasing the amount of plants in our diets. 'Mass urbanisation has taken us away from the power of plants and the power of the soil,' he says. 'But we're starting to remember how to enjoy them – from growing them to cooking with them. It's important for our own health, both physically and mentally, as well as the health of the planet.' And it starts with what's in your bun.
Now try our ultimate vegan burger.
About the author