Food
Blenders - Tried & Tested
Soups, smoothies, cocktails, sauces, and juices... a blender can do so much in the kitchen, but which model should you buy? There's a bewildering array to choose from, so we put a selection through their paces in the Sainsbury's magazine kitchen to find the top buys, whether it's a Christmas present for the foodie in your life, or an early treat for yourself.
How we tested them...
All the blenders were tested with three challenging recipes – a pesto, a milkshake and an iced cocktail. With pesto, the challenge for the blender is to break down the large quantity of leaves and nuts in relatively little liquid. With the banana milkshake we're testing the ability to produce a silky-smooth drink from a large volume of liquid. Lastly, the iced cocktail tests a blender's motor power with rock-hard ice cubes.
Best for: Serious cooks
Magimix is a household name for a good reason and, while it's expensive, it really is proof that you get what you pay for. Our Magimix blender ploughed through all the tasks in seconds, producing perfect pesto, shakes and ice cocktails. It's a real looker, too, one that you'd be happy to have out on your countertop all the time.

Best for: Bargain lovers
Tefal Blenderforce Blender, £29.99
The Tefal blender won the budget-priced category hands down. Where other low-priced blenders struggled to crush ice or produce smooth purées, this one achieved superb results thanks to its larger-than-average serrated blades. With a plastic jug it's pleasantly lightweight and, though not as stylish as the classic Magimix, its sleek black design means you don't have to hide it in a cupboard.
Best for: Cocktail queens
Gourmet Gadgetry Retro 3 in 1 Drinks Maker, £34.99
We loved the retro 'diner' looks of this miniature blender. It's small enough to tuck away into a drawer, and we were pleasantly surprised with the results. It made short order of both the pesto and the milkshake and whizzed up a mean cocktail. Its small size and comparatively low motor power does mean you can't crush ice with it but no matter – it comes with a spare blender cup that has a freezable outer layer, so you can still make ice-cold drinks in moments.
Some other great blenders we tried that were worthy of note...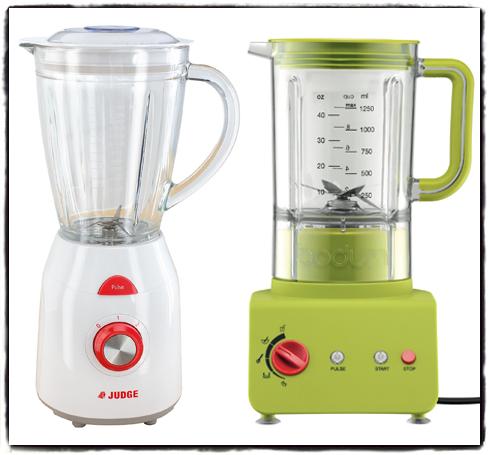 Judge JEA41 Blender, £48
We liked the large capacity lightweight glass jug and it's ideal for anyone who's primarily interested in whizzing up smoothies or soups, but it wasn't quite as versatile as the other large models.
This has a shatterproof plastic jug that is dishwasher safe and it was the only model to have sturdy suction cups on the base making it wonderfully secure to use. A great all-rounder.
About the author