Acting food editor Tamsin Burnett-Hall has collected together a range of expert tips to suit any kind of barbecuer. From the novice to the experienced these handy tricks will ensure you're grilling like a pro.
COOKING WITH CHARCOAL
CHARCOAL: LUMP OR BRIQUETTES?
Lump charcoal is pure and natural, lights easily, burns hotter and leaves less ash. Briquettes take longer to light but burn for longer. They can smell more artificial, as well as producing more ash.
EASY DOES IT?
'Easy-lighting' charcoal is easy to use but contains additives to help it ignite; these can result in an artificial flavour, and also mean that the charcoal doesn't burn for nearly as long as pure lump charcoal.
CHOOSE A CHIMNEY
Speed up the lighting process by using a charcoal chimney – a metal cylinder with a grate inside (widely available); pile in the charcoal with a bit of newspaper to ignite it, and your coals will be ready in half the time.
GET THE GLOW
Wait for the flames to die down before you start barbecuing – you want the coals to be white-hot (ie grey and glowing).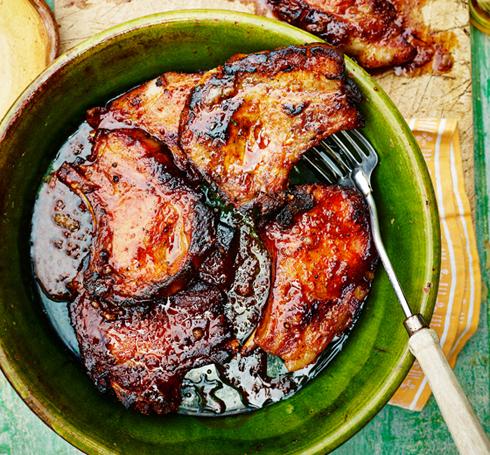 Sticky maple-glazed pork chops
GAS VS CHARCOAL
GAS PROS AND CONS
Convenience – if the sun comes out, simply switch on the gas and be ready to cook in a matter of minutes.
Easy ignition, just the flick of a button.
Controllable heat at the turn of a dial.
Often have a large cooking area with different types of cooking surfaces.
The gas bottle may unexpectedly run out during cooking – so have a spare handy!
Gas barbecues usually cost more, but the fuel needs replacing less often.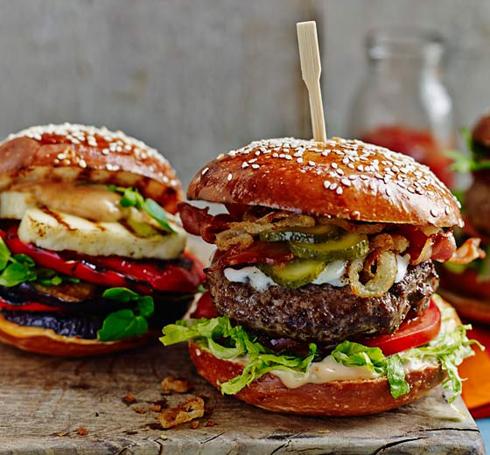 Mozzarella beef burgers with spicy fried onions
CHARCOAL PROS AND CONS
Purists swear by charcoal for flavour – but it requires more planning and time.
Temperature control can be achieved by heaping up or spreading out the hot coals to create different heat zones.
A portable charcoal barbecue is the go-to option for camping, cookouts on the beach etc.
Often trickier to light, although there are gadgets and lighting materials to assist.
Charcoal barbecues often have a smaller cooking area, to economise on fuel.
Longer clean-up operation, with ash to be cleared out when cold.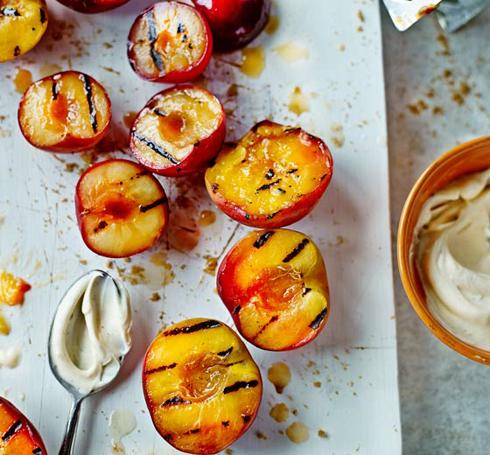 Grilled peaches, apricots and plums with nutmeg mascarpone
Check out all our barbecue recipes here.
About the author