Food
Afternoon tea at The Dorchester
I went for afternoon tea at one of the swankiest, most famous hotels in London, The Dorchester. It's not often that I find myself in such places, so I thought I'd let you all know what happened in my two hours of acting like a wealthy lady who lunches.
3:15pm
– I arrived promptly and took my seat in the long, ornate Promenade eating area, just past the hotel's reception, which is adorned with amazing flowers (the head florist, I'm told, is only 26!). I handed in my coat and hat (even covert celebrities have to take them off – all the better for my celebrity spotting!)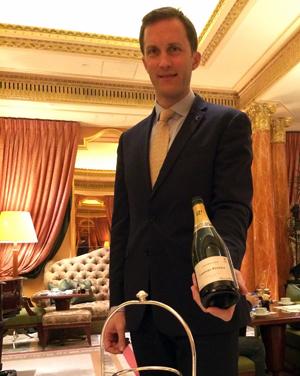 Yes, I will have some Champers Pierre, thank you.
3:20pm – I was poured my first glass of Laurent Perrier NV Champagne by master charmer Maitre D', Pierre, and began to peruse the tea menu. Where do you start? I thought I'd venture out of my English Breakfast comfort zone and took Pierre's recommendation (he knows every detail of the menu and every single tea on offer), who suggested Bangkok (a blend of lemongrass, ginger and coconut) and my friend opted for The Dorchester Blend, naturally (a bright tea with a light hint of caramel).
3:30pm – Sandwich time! At The Dorchester sandwiches are served silver service (because who could possibly reach over and grab their own sandwich, certainly not I!).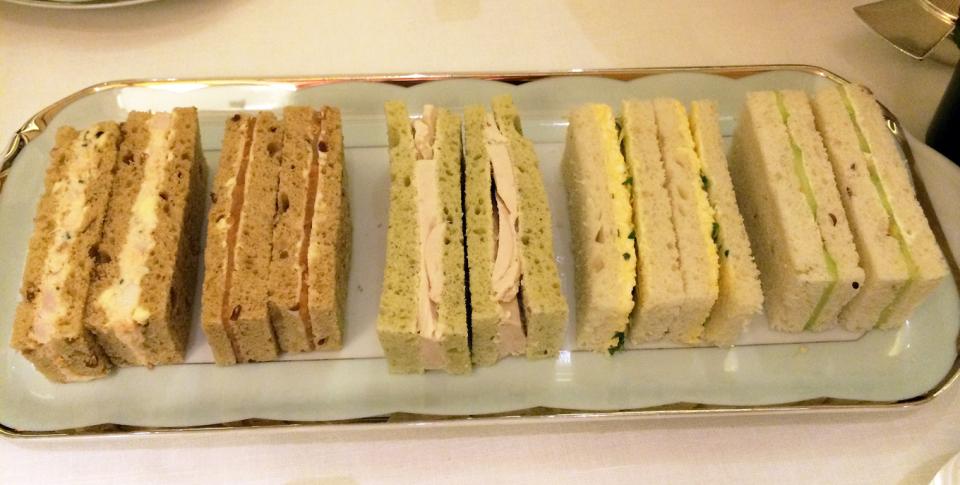 Not a crust in sight
All are served on freshly baked breads that are made to complement the fillings. There was...
chicken and wholegrain mustard mayonnaise served on soft basil bread.
The classic cucumber sandwich is given a little va-va-voom with caraway seed bread.
The egg mayonnaise is with shiso crest (a lemony flavour) and on soft white bread.
Smoked salmon and cream cheese is served on granary.
3:45pm – We easily polished off a second round. I could have probably gone for round three, but one must show restraint. Pierre did tell us that a lot of people aren't shy at all at asking for three or four rounds! (Well, when in Rome...)
4:05pm – At this point I decided to try a different tea and opted for Paris (flavoured with currants, bergamot and caramel) and my friend chose African Autumn (a rooibos tea with cranberry and orange).
4:20pm – Scone time. We watched a two-tier cake stand arrive at our table – they do this so you get the scones warm after your sandwiches. Pierre then offered to prepare my scone for me... fine by me! Here, the raisin and plain scones are served the Devonshire way, with the clotted cream slightly melting into the scone and topped with either homemade strawberry (they get through 10kg of fruit a day making jam) or a more seasonal jam – we had raspberry and ginger, which was incredible!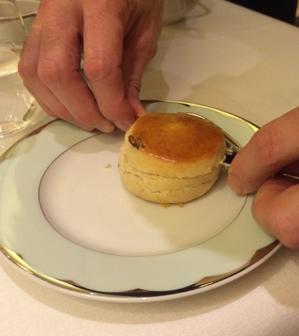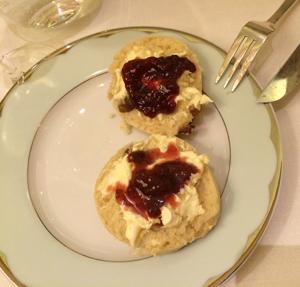 Cream, then jam. No argument.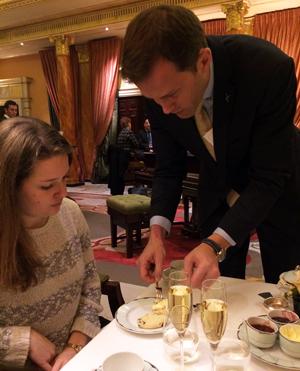 Pierre prepares my scone (those aren't both my Champagne glasses)
4:35pm – We left two scones (in the hope we could take them home with us at the end), and dived delicately into the petit fours. These are almost too beautiful to eat (emphasis on the almost). The bountiful selection of pastries were charmingly elegant and dainty, our top picks were the gold encased espresso cake, the citrus macaroon with a mini macaroon on top, and, of course, the chocolate and raspberry brownie cake.
Not so 'petit' petits fours
4:50pm – Through sheer gluttony I asked for another round of patisseries – after all, this is a one-off experience. Who knows when I'll be back. As for Pierre, he actually came in on his day off to prepare our afternoon tea (what a guy!), and apparently he rarely leaves, so if you find yourself at The Dorchester, ask for Pierre and he will be sure to tell you everything there is to know about the huge selection of teas, how to properly prepare your scone and maybe even tell you a little anecdote about some of the celebrities that frequent the place...
5pm – Resumed my normal life.
You can book afternoon tea at The Dorchester. They have themed teas coming up for Easter, The Chelsea Flower Show, and Wimbledon. Enjoy!
About the author