Food
6 things...I ate in Seville
Seville is famous for its tapas bars – but how do you tell the tourist traps from the authentic, family-run places? Katy Salter took a tapas tour of the Spanish city to find out. Here's her pick of the best dishes...
1. Ibérico ham
Short on time in Seville, we booked a private Sevilla tapas tour with 'queen of tapas' Shawn Hennessey (@sevillatapas). Canadian Shawn has been living in Seville for over 20 years and knows the tapas scene inside out. Our first stop was the traditional Las Teresas, where we sipped Fino and feasted on paper-thin jamón Ibérico de bellota: aka the Rolls Royce of Spanish hams. The hams dangled from the ceiling, giving the bar a welcoming, honeyed aroma. (pictured above, top)
As well as traditional tapas bars, Shawn also took us to a hip spot called La Brunilda. It was well hidden down a maze of cobbled streets – we never would've found this place by ourselves. At 11pm on a Wednesday the place was packed. We stood at the bar and tried an incredible dish of tender octopus topped with roe, served on a bed of migas (breadcrumbs) and fried egg. (pictured above, middle)
3. Salmorejo
Salmorejo is an Andalusian tomato soup. It's similar to gazpacho and also served chilled, but is paler, thicker and creamier thanks to the larger quantity of bread in it. We loved the version at Bar Europa, a 1920s bar with pretty blue-tiled walls in a quiet plaza. (pictured above, bottom)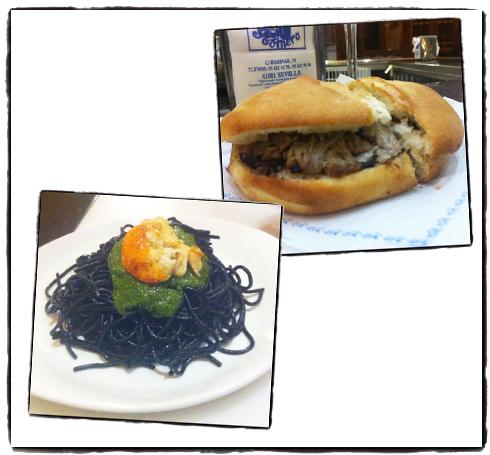 Shawn says this pork roll has taken Seville by storm, and it's easy to see why. The best pringás are served at Bodeguita Romero in the city centre. The chefs take a crisp white roll and fill it with layers of soft slow-cooked pork, chorizo and morcilla (black pudding). One of the most delicious sandwiches you'll ever eat. (pictured above, top)
5. Squid ink spaghetti with scallops (@vineriasantelmo)
Vineria San Telmo near the famous Alcazar was another recommendation from Shawn. We loved all the dishes – a creamy tortilla, morcilla crepes in a red pepper sauce, tender Ibérico pork – and this generous tapa of squid ink spaghetti topped with a fat scallop. (pictured above, bottom)
6. Octopus with smoked paprika
In a glass case on the counter at Las Teresas are some simple but addictive tapas, such as fat white anchovies in olive oil and the traditional dish of pulpo a la Gallega – Galician-style octopus sprinkled with paprika. Delicious. I don't have a picture, but you can imagine how good it was!
About the author