Food
6 of the best seafood restaurants
by Sarah Alcock
Is there anything better than tucking into crispy battered fish and chips on the beach, or sampling a proper southern American soft shell crab roll? Here's our round-up of the best seafood on offer this summer, including an oyster festival, lobster season specials and curry-flavoured batters...
1. Crab Tavern – Liverpool Street, London
Our content editor Sarah visited Crab Tavern in the newly revamped Broadgate Circle, next to Liverpool Street. She started with the Crab Tavern platter, which comes with king crab, soft shell crab, crab Caesar sub and crab tartar on toast. Sarah then opted for the soft shell crab burger (£15 – you just can't have enough soft shell crab!), which was served on a sweet brioche bun with tasty red pepper jelly. Her dining companion chose the 'best legs in town' – which at £39 isn't cheap – but the king crab legs are meaty and delicious, especially when dipped in hot garlic butter. If you have room for dessert, go for the chocolate brownie with salted caramel ice cream. You only need one – it's pretty huge and VERY gooey.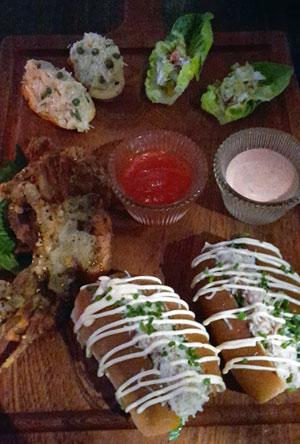 2. Ducky's – Beer, Devon
Where better to eat crab sandwiches than on the beach, next to the crab pots they were caught in? Our acting food director Mitzie loves Ducky's cafe on the pebble beach at Beer – it's a great value, unpretentious cafe and their crab sandwiches are packed with the freshest crabmeat. It's delicious washed down with a cup of tea while looking at the striped deck chairs and fishing boats! And if you fancy a bit more crab, you can buy the whole thing (or prepared crab) from the fishmonger on the slipway to the beach, too.
3. Notting Gill Chippy – Kensington, London
Our deputy editor Michelle visited Kensington Place to sample their summer seaside special. They have some delicious takes on traditional fish and chips, including giant beer-battered scampi, a decadent lobster thermidor-stuffed savoury doughnut and – Michelle's favourite – cod in curry batter with mango chutney and a lentil dhal. Pure genius! Wash it down with a Consommary cocktail, a gin-based take on a Bloody Mary with a super-spicy kick.
Notting Gill Chippy will be at Kensington Place from 1-31 August.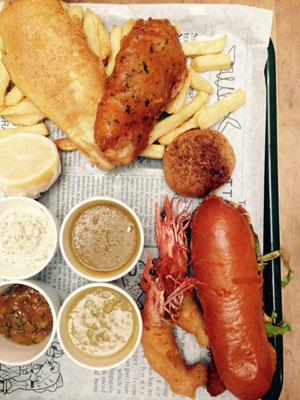 http://www.kensingtonplace-restaurant.co.uk/notting-gill-chip-shop/
3 More...
4. Bonnie Gull Outdoor Kitchen – Foley Street, London
Branching out from their very successful restaurants, Bonnie Gull Seafood has opened up an outdoor kitchen exclusively for the summer months. We couldn't be more excited about yet another great place for fresh British seafood in the heart of London. On Wednesday to Friday between 11am and 3pm you can pick up some North Sea haddock and chips in chunky beef dripping (£7.50). And, if you're feeling adventurous, there's a selection of oysters served in the evenings from Wednesday-Saturday from 4-8pm. Or pick up some Prosecco, beer, small plates and takeaway fish and chips. Perfect for these summer evenings!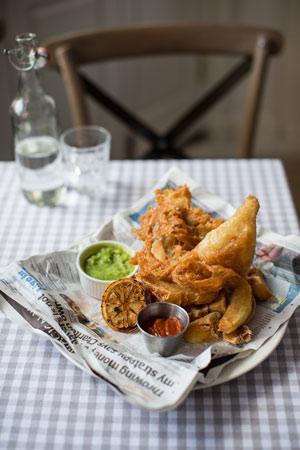 http://www.bonniegullseafoodshack.com
5. Rockfish – Dartmouth, Devon
Situated on the 'seafood coast' of Devon, there's no denying Rockfish's prime location, and with seafood super-chef Mitch Tonks at the helm, you know it's going to be good! Receiving fresh landings of Devon blue lobsters every day, their new lobster season menu is not to be missed. For something a little different, try the lobster cocktail with special cocktail sauce (£17.50) – completely mouth-watering! For something more traditional, order the grilled lobster served with garlic butter (£17.50 for half; £35 for whole). Rockfish also have an excellent seafood menu outside of lobster season including South Devon crab, Jersey rock oysters and south coast calamari.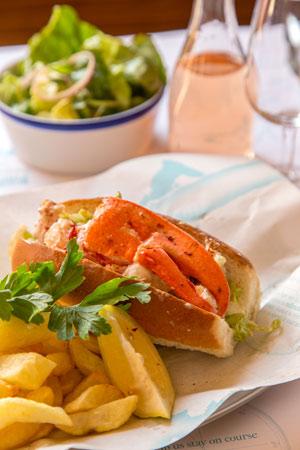 6. Oyster festival – Randall & Aubin, Soho, London
Now, we know oysters tend to have a serious love/hate divide, but for the lovers out there the Randall & Aubin Oyster Fest is a MUST. The restaurant has promised a whole month of oyster specials, ranging from oyster and squid tempura to raw Thai oysters. For just £10 you can sample several dishes containing four oysters and a lager to match. How can we refuse?
Launches next week!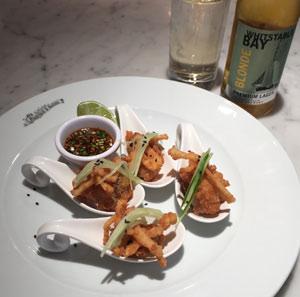 Don`t miss

---