Food
6 of the best places to eat eggs
by Sarah Alcock
An 'uneggspected' food trend is spreading across London and beyond – eggs. Yes, that's right – the humble egg is being transformed into a thing of foodie beauty and taking centre stage at a number of restaurants across the country. Here's our pick of the top six places to enjoy them...
The short-but-tempting menu at Yolk features classic egg dishes such as Scotch eggs and Spanish tortillas that have been elevated in flavour. Their eggy delights can be found at various markets across London, so follow them on Twitter @YolkLondon to find out where you can get your fix.
An all-day diner in Moorgate, run by chef Neil Rankin from The Smokehouse Islington. The restaurant specialises in eggs that (contrary to the restaurant's name) are anything but bad! As well as your average egg-based breakfast dishes, Bad Egg goes for full-whack flavour in its more 'eggstravagant' (sorry!) dishes, including pulled pork and kimchi hash with a fried egg, or the popular side dish of 'nduja, cheese and fried egg fries.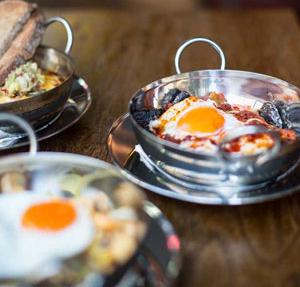 A Fulham-based restaurant that specialises in, well, chicken wings and eggs. The restaurant has been grabbing media attention recently for its 'eggcentric' new addition to the menu: ostrich egg. When this 2kg egg (which must be ordered two days in advance) is cooked, it ends up the size of a dinner plate and is offered to diners for sharing.
ELSEWHERE...
While it seems that exclusively egg-based restaurants are strictly a London trend right now, restaurants and cafes all over the country are celebrating this simple ingredient in a variety of dishes.
Farm Cafe near Woodbridge in Suffolk
Our food editor Tamsin loves the ham hock hash and fried eggs at this cute roadside cafe and farm shop. There are also shelves of different condiments, including pickles, relishes and chilli sauces for you to spice up your food to your own taste.
Llangoed Hall Hotel in Mid-Wales
Our sub-editor Emily had an amazing brekkie on a recent trip here. You can choose from hen, duck or bantam eggs, all produced on site. Check out her scrambled duck eggs with smoked salmon and toast (see pic below).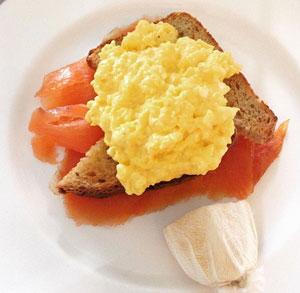 Try the recipes in Madeleine Shaw's new book
Our editor Helena has been busy at home knocking up some delicious egg-based dishes from Madeleine Shaw's new book, Get The Glow (Orion, £20). See her efforts below.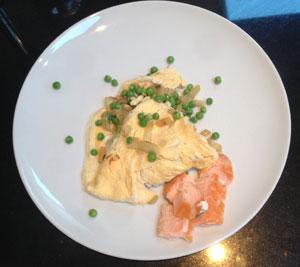 Don`t miss

---