Food
6 of the best milkshakes
The much-loved milkshake has recently undergone a rather rock 'n' roll (and often boozy) makeover.
The world's most Instagram-able milkshake was created when a small café called Patissez in Canberra, Australia invented their over-the-top 'freakshake' – complete with cookies, brownies, whipped cream, pretzels, chocolate and marshmallows. It's definitely more of a mountain than a milkshake! Could you take it on?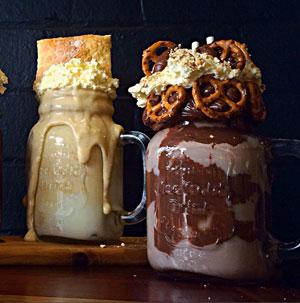 Pic courtesy of Patissez's Instagram page
If you're a fan of a good milkshake (and quite frankly, who isn't?), the good news is, you don't have to travel across the globe for one! Here's our pick of the best dessert/ drink hybrids... with a twist.
The one Gordon Ramsay invented!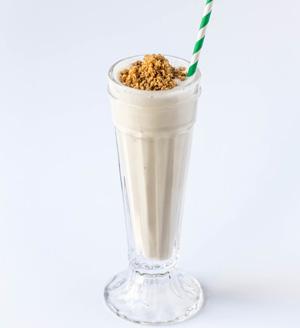 Rum, peanut butter, banana and ice cream? This is the stuff dreams are made of, and luckily for us, the boozy shake is a permanent fixture at Heddon Street Kitchen, part of the Gordon Ramsay Group.
Also on offer is The Mad Hatter's Tea Party, with a subtle hint of Earl Grey-infused gin, strawberries and vanilla ice cream – it's summer in a glass and will have you grinning like a Cheshire cat!
And the 'Raspberry Tipple' - rum, Chambord and vanilla ice cream all blended together, is also a creamy delight.
The one with the retro vibe
Amongst a plethora of 1950s style diners and American-style burger joints in London, The Love Shake in Shoreditch, London, manages to stand out with unpretentious style.
The café, lounge and mini milkshake bar prepares its shakes with organic and soya milk, with their 'hard shakes' also combining a shot of liquor.
The 'Oreeto' (Amaretto & Oreo Cookie in a shake) or 'The Old Bailey' (two shots of Baileys in a shake) are great favourites among milkshake aficionados.
The classic British one
The Magnificent Milkshake Co is an independent mobile catering trailer located near Cambridge – you may have spotted them at Wilderness or Camp Bestival this summer.
They focus on eight deliciously thick and creamy milkshakes, using purely natural ingredients, and all based on our favourite puddings like Eton Mess, Rhubarb & Custard and Banoffee Pie.
For their Crème Brulee shake, they add a dash of real vanilla extract and custard and top it with homemade caramelised sugar for the classic crunch - yum!
The one in a cute milk bottle
If you appreciate a good gimmick, then you'll certainly have time for the trendy Liverpool cocktail bar Santa Chupitos.
Their shakes are seriously sweet and sticky – think milk bottles and squirty cream and you're on the right track.
Best of the bunch is the Five Dollar Shake with vodka, Chambord, blueberries and ice cream.
The boozy American Diner one
Located at eight venues across London, The Diner is a popular chain that packs in the punters.
The menu essentially consists of your classic American burgers, chips, hot dogs, and BIG breakfasts, but the milkshakes really standout.
The Colonel Parker (Bourbon, ice cream and peanut butter) and The Kraken (Rum, banana, ice cream, maple syrup and malt) in particular are delicious.
The one with the steak!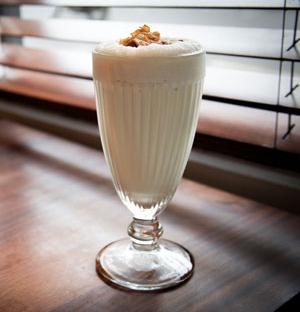 Hawksmoor's Cornflake milkshake is gaining legendary status – the sweet, crisp, milky taste of a bowl of cornflakes in an intensely creamy milkshake – bliss! Devour it over brunch with friends for a naughty, but nostalgic treat.
Another favourite is the Pina Colada – they use a dollop of coconut sorbet in their recipe to give it a seriously creamy consistency, not overly sweet, and just right when you're in the mood for a trea
About the author