Food
5 of the best hot dogs
We've put together 5 of our favourite places to sample jolly good dogs... starting with a little excursion I made last week to Byron Burger.
Let us know your favourite hot dog places - we're all ears when there's good food involved!
I went to... Byron
Last week I went to Byron to try their Freddar Dawg; billed as, 'the burger that thinks it's a dog.'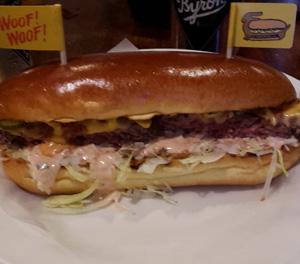 It's actually not a sausage at all, but a burger cut in half to fit the hot dog roll. Genius. It's topped with that famous Freddar cheese, which is like a runny mature cheddar (not the most delicious description, but very tasty indeed), plus streaky bacon, pickles, onion, American mustard and Byron sauce.
You might be thinking, 'why would I get that when I can get the same in burger form', and the answer is simply the ease of eating. Some may disagree with me but I'd say it was easier to handle than an unruly burger whose filling can spill out over a 360 degree radius. If you have small hands it's also much easier than trying to grapple with a giant burger.
Order some chips, coleslaw and a cool beer. Happy dawg indeed!
I also like... Herman ze German
I went here one Thursday evening having trawled through Soho for hours searching for a table. We stumbled across Herman ze German and were greeted with massive smiles and a menu that is pretty hard to choose from, even though it's all hot dogs. We shared currywurst (which I'd only ever had from a street vendor in Berlin). It was very tasty – lots of curry flavour and enough sauce to dunk your chips in. We also had a bratwurst (pork and veal sausage), which was gone in about 5 seconds flat. The crispy onions on top just make it even more moreish. It's definitely not the most romantic of settings, but pretty ideal if you're hungry and in a hurry!
Leanne, our picture editor likes: Burger Brothers
'Burger Brothers is a Kent-based American food chain who run their "dirty food" joints from established pubs in Canterbury, Deal and Broadstairs. Their hot dogs are the best in the area – choose from beer-cheese liquor or BBQ pulled pork as an extra topping (they also have crispy bacon and beef brisket chilli). Plus the nachos with house beef brisket chilli is to die for! The owner, Karl Wozny is a very lovely chap, too!'
Emma, our assistant food editor, likes: Top Dog
'The ethos at Top Dog is "dirty food" that's also good food. The sausages are all made with free-range meat with lots of outrageous toppings. Their homemade chilli is really great, and I'm a chilli head so I can say that with authority. I had the sloppy dog which has baked beans, fried shallots, lots of cheese and is well worth getting into a mess for.'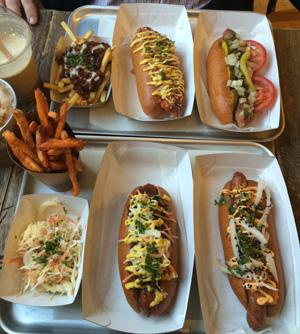 Emily, our sub-editor, likes: Hawksmoor
'It's the best chilli dog I've ever had, washed down by one of the best cocktails I've ever had. Shaky Pete's ginger brew is made with gin, ginger syrup, lemon juice and topped with London Pride. It looks like butter beer from Harry Potter, but is one of the most refreshing, zingy drinks -and is perfect for summer.'
About the author