Food
5 must-try places to eat in Barcelona
by Anne Robinson
Barcelona has a celebrated food scene fuelled by a combination of world-class chefs, imaginative cooking and rich ingredients fresh from farm and sea. Catalan culinary masterminds like Ferran Adrià and Carles Abellan have become international icons, but (unfortunately) we can't all afford the world of haute cuisine. Bearing that in mind, this is my guide to affordable Spanish food at its best.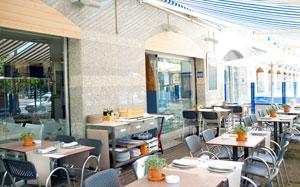 Tapas is so simple, brilliant and delicious – and is an essential pillar in Barcelona's food scene. Like all elements of Catalan cuisine, the breadth of choice when it comes to these small plates is extraordinary, from traditional seafood combinations to astonishing inventions with their origins in a laboratory.
At La Mar Salada there's plenty of choice for you to kick-start your meal. I tried the lobster fritters and ham and cheese croquettes – both soft, melt-in-the-mouth, and utterly moreish.
Guidebooks often recommend this restaurant as serving the best paella in town and it's hard to disagree. Our seafood paella was so authentic and flavoursome – worlds apart from the imitations you'll often find in London.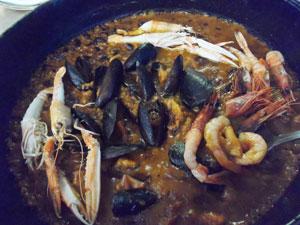 Simply delicious tapas, paella... and sangria – what more could you want?!
If you go to a Basque-style pincho bar such as Euskal Etxea, the etiquette is slightly different. All of the pinchos (bite-sized tapas served on top of pieces of bread) are displayed on plates along the bar. Simply ask a waiter for a plate and get stuck in. Work your way along, loading your plate with pinchos you like the look of (they're around €2 each).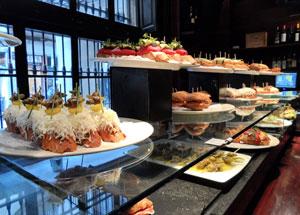 While you eat, make sure you save the small toothpicks that are stuck in each one. This is how the bar staff work out your bill – by counting the number of toothpicks on your plate. These can quickly add up, especially with the tempting hot pinchos that are bought to your table by waiting staff – so keep an eye on the amount you are eating and therefore spending!
You'll find an abundance of choice, and it really doesn't take much to fill you up. This is fast food with a difference – authentic, unpretentious and fun.
BistrEau at the Mandarin Oriental
OK, so this place isn't cheap, but for a chic treat you can't go wrong with Ángel León's elegant and calming bistro right in the heart of Barcelona. Situated along La Rambla, this dining room is a welcome calm amid the hectic city. Cosy up in a high-backed chair and enjoy looking at the beautifully designed menu and you'll see that his dishes are both fun and inspired. Try the croquettas made from squid ink and the 'bravas from the sea' from the sharing menu – the former probably the best take on a croquette I've ever had and the latter immediately reminded me of fish and chips at the seaside all in one tasty bite.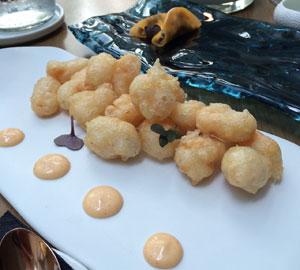 A word of warning: although portions are fairly substantial as far as sharing plates go, you really won't want to share! The menu does cater for non-fish eaters, too – try the sirloin steak served on a cast iron board so it keeps warm, and if you can fit in a pudding, make sure you do. The orange blossom with figs was particularly delicious.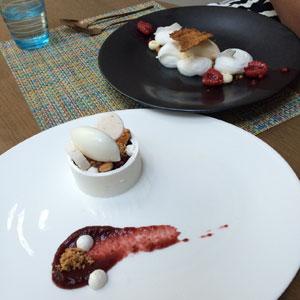 You must buy an ice cream from one of the many vendors along the beach; some of them have masses of choice – and not just your average flavour options. I went to Vioko, just off the main promenade. Here you'll find over 50 flavours of artisan ice cream, chocolates and cake, all made from natural products. Scoff it sitting in the sun on the beach – bliss!
Quite simply, this is one of the most impressive markets in the world, with the best products from Catalonia all in one place – exotic fruit, colourful vegetables, fish, cheese, ham, olives and tapas... A feast for the eyes and nose! Arrive early to avoid the crowds.
Don`t miss

---