Food
3 recipes to cook on the campfire
by Sarah Alcock
Our features writer Katrina is going camping this weekend, which got us talking about what we like to eat when armed with just a tent and the great outdoors. We bet you didn't know that you can make these three recipes without carrying the kitchen with you. So even if the weather is looking a little dreary, you'll have some delicious grub to look forward to.
What do you like to cook when you go camping? Tell us in the comments box below.
Maple and cinnamon popcorn - serves 2
1 tbsp vegetable oil
3 tbsp popcorn maize
3 tbsp butter
3 tbsp maple syrup
1 tsp ground cinnamon
sea salt flakes, crushed
1 Heat the oil in a large pan. Tip in the popcorn maize and cover the pan. Pop the corn in the embers of the fire for 5 minutes or so – give the pan a shake now and then as it cooks.
2 Add the butter, maple syrup, cinnamon and a couple of pinches of crushed sea salt and give the pan a good shake.
Rocky road bananas - serves 4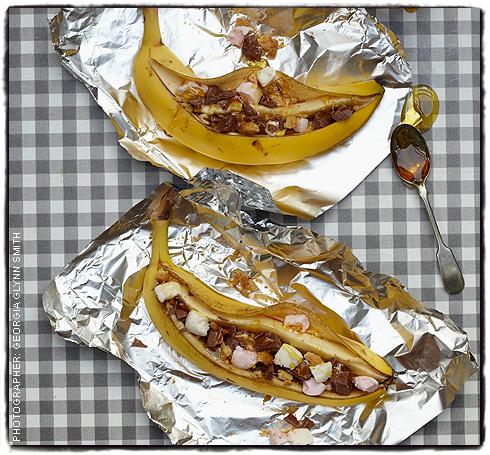 8 marshmallows
8 squares of milk chocolate
4 bananas, skin on
4 tsp golden syrup
2 digestive biscuits
1 Chop the marshmallows and chocolate. Using a sharp knife, slice along the length of each banana on the curved inside – through the skin and flesh but not through the skin on the other side.
2 Place one of the bananas cut-side up on a square of foil and prise apart the cut you have made to create an opening.
3 Stuff the banana with marshmallows and chocolate, drizzle with golden syrup and wrap foil around the banana to enclose it. Repeat with the other three bananas.
4 Cook the banana parcels in the dying embers of a camp fire for 15-20 minutes. Chop the biscuits into bite-sized pieces. When ready, open up the parcels, sprinkle with the biscuits and enjoy.
Mackerel in newspaper – serves 4
You'll need four gutted and cleaned whole mackerel for this. Stuff each mackerel with mixed herbs of your choice (we like parsley and mint), a slice of lemon and some seasoning. Wrap each mackerel in a sheet of newspaper to make a parcel, then soak each parcel in fresh water. Repeat the process five times for each fish until you have wet mackerel parcels made up of five sheets of newspaper. Place each parcel on an open fire or barbecue and cook until they paper starts to burn – almost to the point at which it catches fire.
The water will prevent the fish from burning long enough to allow it to steam in it own juices. Once you unwrap it, the fish will be perfectly cooked. Serve with a salad of your choice.
Recipes from The Camper Van Coast by Martin Dorey, recipes by Sarah Randell (Hodder & Stoughton, £16.99)
Don`t miss

---