Food
3 porridge recipes for National Porridge Day
When the three bears came home after Goldilocks' morning of breaking and entering, what were they most disgruntled about? Someone sleeping in their beds? A broken chair? No, it was their breakfast. Specifically, porridge. After time spent getting your bowl of oats just right, finding out it has been gobbled by a petty criminal is no way to start your day.
To celebrate National Porridge Day, we've stirred away at three recipes that are not too sweet, or too hot, and yes, you guessed it, just right!
Classic porridge
Oats. Check. Milk. Check. Fruity topping. Check. This porridge is easy to put together, has classic flavours and is easily adaptable.
Serves 4
Ready in 10 mins
350g fresh blackberries
2 tbsp caster sugar
1 tbsp lemon juice
200g porridge oats
1.05ltr semi-skimmed milk
1 Pink Lady apple, cored and sliced into thin wedges
1½ tbsp toasted flaked almonds
1. Put 200g of the blackberries in a small saucepan with the sugar and lemon juice. Simmer steadily for five minutes, occasionally crushing the blackberries with a spoon, until it starts to thicken. Remove from the heat and let cool.
2. Put the porridge oats and milk in a large saucepan and cook according to the packet instructions. Once ready, immediately divide between four bowls.
3. Add the remaining blackberries to the cooked ones and stir through. Top the porridge with the blackberry compote, apple wedges and flaked almonds.
Vegan porridge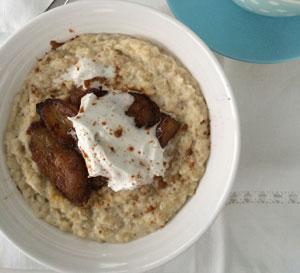 This vegan and gluten-free bowl of oaty goodness still aims to impress with coconut milk, coconut oil and caramelised bananas.
Serves 4
Ready in 10 mins, plus overnight chilling
1 x 400g tin coconut milk (minimum 70% coconut extract)
200g gluten-free porridge oats
2½ tbsp coconut oil
2 bananas, sliced diagonally
2 tbsp runny honey
½ tsp ground cinnamon
1. The night before making your porridge, pop the can of coconut milk in the fridge, taking care not to shake the can. The next morning, open the can and carefully scoop out 4 heaped tablespoons of the thick coconut cream from the top. Place in a bowl and transfer to the fridge.
2. Decant the remaining coconut milk into a bowl and top up with enough warm water to bring it to 1.05 litres. Stir together until there are no lumps. Put the porridge oats and coconut milk in a large saucepan, and cook according to the packet instructions.
3. Meanwhile, heat 1½ tablespoons coconut oil in a large frying pan until melted. Add the bananas, honey and cinnamon and cook over a medium heat, turning the bananas often, until they are browned, a little crisp around the edges and tender – this will only take a few minutes.
4. Once the porridge is ready, stir in the remaining coconut oil. Remove the bowl of coconut milk from the fridge and beat with a whisk for about 30 seconds until smooth and creamy. Divide the porridge between four bowls, top with the caramelised bananas and a dollop of the whipped coconut milk.
Savoury porridge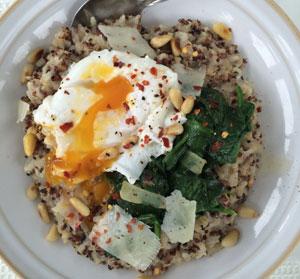 Porridge without the honey? Or a bit of fruit? We say yes. Follow China's lead and replace porridge with rice, adding an array of flavoursome toppings. We went for a poached egg, guaranteeing a break-the-yolk 'ooh' factor
Serves 4
Ready in 45 mins
125g brown rice
100g tri-colour quinoa, rinsed
30g medium oatmeal
¼ tsp sea salt flakes
1.1ltr vegetable stock, made with 1 stock cube
1 tbsp olive oil
3 garlic cloves, thinly sliced
200g spinach
1 tsp white wine vinegar
4 medium eggs
1 tsp crushed chilli flakes
1½ tbsp toasted pine nuts
Pecorino shavings, to serve
1. Put the brown rice, quinoa, oatmeal, salt flakes and stock in a medium pan and bring to the boil. Reduce the heat, partially cover and simmer, stirring occasionally, until you have a soft and thick porridge-like consistency, about 35-40 minutes.
2. Meanwhile, heat the oil in a large frying pan over a medium heat. Add the garlic and sauté for 1 min until soft but not coloured and then add the spinach, cooking until just wilted. Remove from the heat and season with salt and pepper.
3. Fill a large, wide saucepan with water. Bring to a gentle boil and add the vinegar. Crack one of the eggs into a cup and gently pour it into the water in one go. Repeat with the rest of the eggs. Remove with a slotted spoon once the whites are firm and the yolks still soft – 2-3 minutes.
4. Divide the porridge between four bowls. Top with the spinach, poached eggs, chilli, pine nuts, Pecorino and plenty of freshly ground black pepper.
About the author