Food
3 party nibbles in 30 mins
by Emma Franklin
Canapés needn't be time consuming or fiddly, you can easily whip up some delights to treat your guests in next to no time if you use a few cheaty ingredients and a bit of imagination. Here's three you can whip up in under 30 minutes.
Get dipping
Mix a tub of fresh pesto with a pot of crème de Saint Agur (a liquid blue cheese you'll find near the Stilton) and a couple of tablespoons of crème fraiche and transfer to a pretty bowl. Wrap sesame breadsticks in narrow strips of Spanish Jamon or Italian Proscuitto and serve with the dip.
Ham it up
Fill bought croustade cases with a mixture of cooked shredded ham hock, mustard mayonnaise and finely diced cornichons and top with snipped chives. Can't find croustade cases? Toast thin slices of baguette instead and top with the ham mixture.
Blini bling
Warm a packet of readymade canapé blinis in a medium oven. Cut some baby button mushrooms into thick slices and fry in plenty of butter until golden, seasoning with salt and pepper. While the mushrooms are frying, pep up a tub of bought mushroom pate with a dash of truffle oil, some freshly grated nutmeg and a little extra seasoning (if you think it needs it). Top the blinis with a spoonful of pate, a golden mushroom slice and finish with an extra drizzle of truffle oil.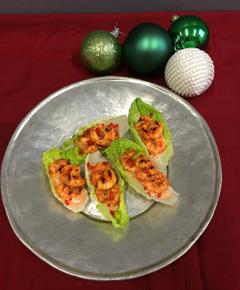 Got a little more time to play with? Try these lime pickle prawns...
In a mini food processor (or in a small jug with a stick blender) whizz 75g full-fat Greek yoghurt with 3 tbsp lime pickle.

Mix three-quarters of the paste with 180g raw king prawns (peeled) and put in the fridge to marinate for 30 minutes.

Preheat a ridged griddle or frying pan until smoking hot, then fry the marinated prawns for a minute or two per side, until pink and opaque.

Separate the leaves of a couple of Little Gem lettuce hearts and fill with the reserved spicy yoghurt mixture and the cooked prawns. Finely dice a little deseeded red chilli and scatter over the prawns to finish.
Don`t miss

---