Food
The best places to eat fish and chips
by Sarah Alcock
It's Friday! Which means hungry Brits across the country will be heading to their local chippie tonight to get their hands on some crispy battered fish and those squidgy chips that only fish and chips shops know how to do.
To celebrate the traditional British Friday supper we wanted to share a few of our favourite fishy restaurants.
What's your favourite fish and chips restaurant?
Sutton and Sons
(pictured above)
Location: 90 Stoke Newington High Street, London N16 7NY
The restaurant: This is a real locals' chippy, with benches outside, the number 76 whizzing past, and shared tables inside. It's always buzzing on a Friday night, and you can pick up the best seasonal fish cooked to order.
Food: Battered monkfish is a departure from the usual cod/haddock, but the generously flaky chunks of flesh against a light and crisp batter takes fish and chips to the next level. Try grilled skate, mackerel or the catch of the day for something healthier and a bit more elegant. Don't skimp on the condiments: homemade aioli is rich and garlicky, and balsamic pickled onions or classic mushy peas are a must. The good news is that they don't do anything fancy with the chips; just straight up, classic cut, with a good mixture of soft, squishy ones and a few crunchy edges. Save room for dessert, as Mrs Sutton's sticky toffee pudding often sells out.
Specialty: All fish is sustainable and supplied by their family-owned fishmongers across the road. Plus - where else home delivers oysters with your fish and chips?
Overall experience: Get your fix of old-fashioned, chip-shop classics with a little extra class.
Marks out of 10: 9/10
Fryer's Delight
Location: 19 Theobalds Rd, London WC1X 8SL
The restaurant: Giuseppe, the restaurant's owner, has been frying fish in London for 45 years – and he doesn't even like eating it. But the man knows what he's doing, as regulars keep wandering into his chippie, which has décor that hasn't changed since 1962.
Food: Fish is deep-fried the old fashioned way, in beef dripping, so you get a crisp, dark batter with perfectly cooked cod underneath. Pies and pasties are also on the menu – but try cod's roe or rock fish (also known as rock cod) for something a bit different. Bread comes cut into massive wedges and buttered for your chip butty. Mushy peas are classic, and we'd recommend getting an oversized pickled cucumber or a pickled egg, too.
Specialty: You won't find many London chippies still using beef dripping – the doctor might not recommend it, but you can't beat the taste (vegetable oil is also an option).
Overall experience: Formica tables, shared booths and an old-style menu on the wall give this place a real retro feel, so order in for the full experience.
Marks out of 10: 8/10
Location: Padstow, Cornwall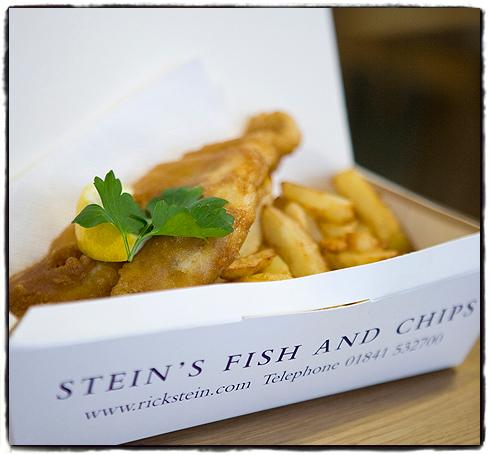 The restaurant: Rick Stein has made his name in the world of poisson so I was very pleased to find myself at Stein HQ, aka Padstow in Cornwall, to try his fish and chip restaurant and takeaway (not to be confused with Rick's smarter Seafood Restaurant down the road).
Food: Starters included battered oysters and tiger prawns with garlic mayo. We ordered grilled scallops, which came in the shell (£1.95 each) and were sweet and succulent - a touch of luxury in a fish and chippie can't be bad. You can have your fish battered (haddock, hake, cod, plaice, bream and sole), fried (goujons, fishcakes, scampi) or grilled (mackerel, salmon, sole, bream). I ordered grilled bream with chips (£10.50) and Matthew, being a traditional Yorkshireman, went for the battered haddock when he was told it was fried in beef dripping, the ultimate in fish and chip perfection. Everything we ate was delicious and spanking fresh.
Speciality: The variety of fish on offer is impressive (and Rick has a good wet fish shop next door). It's not only the mains that are cooked with care - the mushy peas, curry sauce and tartare sauce are all homemade, and vegetarians aren't left out with deep-fried halloumi with chipotle relish on the menu.
Overall experience: There is something very special about tucking into fish and chips overlooking the sea (the Camel Estuary in this case). Although we had to queue for our spot inside (it was a cold day), the queuing system is very well organised and it was well worth waiting for fish and chips Stein-style.
Marks out of 10: 9
Don`t miss

---