Food
3 courses of chocolate
Chocolate Week – that's a whole week dedicated to the sweet stuff – runs from 13-19 October. Now that's something we can get on board with.
Speaking of getting on board, if you find yourself at King's Cross station on the week of the 13th and you've got time to kill before boarding your train, we recommend heading to Plum + Spilt Milk (in that fancy-looking building just outside the station), and trying their delicious – and rather special – Chocolate Week menu. Just make sure you leave enough time post-chocolate to roll to your train.
What's on the menu?
It's not just three courses of chocolate bars – although that would be great, too. This is three courses of carefully planned cuisine masterminded by chef director of the restaurant, Mark Sargeant, and head chef of Gü Puds, Fred Ponnavoy.
• Start with
pan-fried scallops
with white chocolate and cauliflower purée and a sherry vinegar caramel. Yin and yang – and yum!
• Then a very generous loin of venison with a cocoa nib roast squash and a bitter chocolate and red wine sauce. The bitter chocolate made it taste even more savoury, rich and delicious.
• Then dessert – Fred Ponnavoy's ultimate chocolate and tonka bean melting middle with caramelised white chocolate ice cream and mandarin confit. Fred told me that getting hold of tonka beans is a tricky business, but boy oh boy was it worth it! Whatever those little beans did, it made for a delicious, gooey, rich, sweet, yummy plate of melt-in-the-middle pudding. I licked my plate.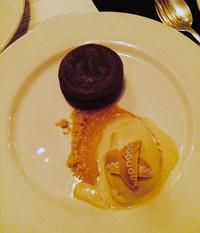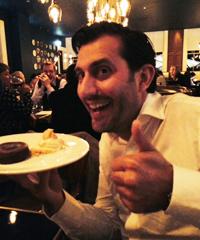 Tonka bean pudding Mark Sargeant with MY pudding!
It's £48 for the set menu, which is available for lunch and dinner during Chocolate Week but is subject to availability. 
To make a reservation, call 0203 388 0818 or email [email protected]
About the author