Food
10 minutes with...Rick Stein
A new Rick Stein travel series is set to hit our TV screens this August (yay!) and this time he's been exploring the Eastern Med – think Italy, Turkey, Croatia and Albania. We grabbed Rick for 10 minutes to quiz him on his Mediterranean culinary discoveries...
What was the most memorable moment of your trip to the Med?
My son Jack came over for a few days when we were filming in Albania. We set off to visit some shepherds in the mountains, but you could only go so far in a car – so Jack and I were offered a couple of mules. The track was so stony that we thought the mules were going to collapse. At one stage I did half-fall off and Jack had the presence of mind to get his camera out and take a video of me – thanks, Jack! I was hanging literally at right angles. When we finally got there the shepherds were roasting a couple of goats on a spit and making a dish called 'kokoretsi', which is the lungs, heart, liver and kidneys of the goat, wrapped in goat entrails and cooked over charcoal. It was a bit like stepping back in time.
What dish would be the best to try at home?
There's a Croatian recipe called 'sporki macaronli' (dirty macaroni), which you could easily do at home. 'Dirty' because the pasta's all covered in a beef sauce.
If you could only bring one ingredient back from your whole trip in the Eastern Med, what would it be?
It would be either aleppo pepper – which is a flaked but quite moist chilli grown in Turkey. Or a thing called salcasi, which is like a sun-dried pepper paste made from red peppers. If you have those two, you have the basis for so many wonderfully flavoured fish dishes or soups.
What dishes would you suggest eating if you find yourself in the Eastern Med?
If you're in Turkey, I'd suggest going for lamb tandir – it's available everywhere. It's called 'tandir' because they used to cook it in something like a tandoor oven. When it's good, it is sublimely good – I think it's to do with the quality of the lamb and they do slow cook remarkably well. There's a recipe in the book for a chicken pie from northern Greece, which is the most gorgeous chicken you'll ever have. It was from Epirus – a region in the north of Greece, and like a lot of Greek pies, it's made with filo pastry and just stuffed full of poached chicken with some vegetables and then reduced down so the poaching liquid is almost a jelly – it's called Kotopita, which I guess means chicken pie in Greek!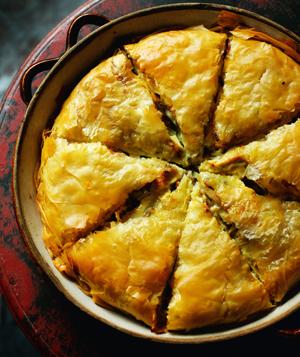 The best chicken pie in Greece...it does look pretty app-pie-ling
What was the best breakfast of the trip?
Turkish cilbir – we're going to put this on the menu in our cafe very soon. It's a poached egg with a sauce of yogurt and a tiny bit of garlic and chilli flakes, with a bit of butter. It's a fabulous breakfast dish.
Where in the world has changed the way you think about cooking?
I think the one place that continually makes me rethink what I'm cooking is Italy, because I love the simplicity and its concentration on the quality of the ingredients. I think it's somewhere you need to visit, then come back and remember what you're all about – finding great ingredients and cooking them simply.
What's your favourite dinner to have at home?
If I'm cooking for myself, the thing I love above all else is a whole Dover sole pan-fried in oil and butter. It's just my favourite fish – that or turbot.
Your son, Jack, is running your restaurants – do you give him advice or leave him to it?
No, I don't need to give advice, because he's just like 'yes Dad, whatever'! What I do these days is just constantly go round the restaurants and try stuff, and if I don't think it's up to scratch I'll just send him an email and he fixes it. My three sons, Ed, Jack and Charles, all have correct opinions, I think, about what good steaks are, good sauces are, good fish is. And if there's something not right they'll point it out. I never get hurt by it, because I value their opinion.
Rick Stein: From Venice To Istanbul (BBC Books, £25) is out now. Photographs by James Murphy. The TV series of From Venice To Istanbul airs on Friday 7 August at 9.30pm on BBC Two.
About the author