Food
10 minutes with Theo Randall
Today (Thursday 18th February), the king of Italian cuisine and one of our favourite chefs (we can say that, right?), Theo Randall is reopening the doors to his fantastic restaurant at the InterContinental on Park Lane after a menu change and interiors revamp. We chatted with him about perfect pasta, being mean on MasterChef and how we're being more adventurous with our orders...
What was your vision for the restaurant 10 years ago?
When I was at River Café I thought, I'm not going to move unless something comes up in a really great location; something that's a big deal. Then the site at the InterContinental came up. The idea was to do something different to everything else in Mayfair...all the other restaurants were quite stiff. I wanted to make it a relaxed atmosphere, relaxed service and nothing too formal.
The restaurant has been featured on MasterChef a couple of times - do the producers ever say, 'Theo we need to toughen it up a bit here!'
My management style in the kitchen is to encourage. Obviously you have to be tough sometimes but when I do things like Masterchef I just try to be me. If someone's having a really bad day, I'm not going to scream and shout at them and say 'You're useless'. I'll just put my arm around them and say 'What's wrong?' and try and encourage and get the most out of them.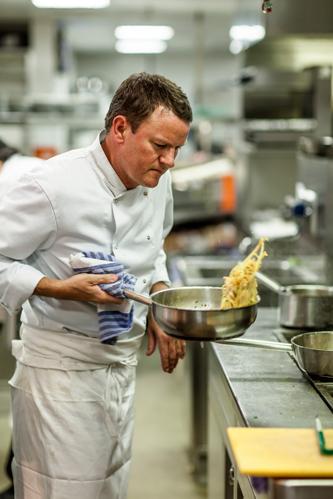 Theo cooking up a storm in the kitchen!
Do you have a favourite new thing that you're introducing to the menu?
My favourite pasta dish is a zucchini dish that came from a friend's family in Sorrento. You cook white onions really slowly, then add thinly sliced zucchini so it gets a bit of colour, and a bit of basil. Let it all combine and you get this lovely, slightly aniseed-y flavour. Mix together egg yolk, Parmesan and black pepper and add it onto cooked pasta with the zucchini mix and my God, it's amazing.
How have restaurant orders changed in the last decade?
New dietary requirements have made a big difference. Some of the tickets we get into the kitchen are a foot long because they say 'allergy to this, allergy to that' so it's gone a bit bonkers. I think people eat more fish than they used to and are open to things like eel, squid and scallops. In some ways people are eating lighter, too; they don't want to eat huge pieces of meat and I think that's a good thing.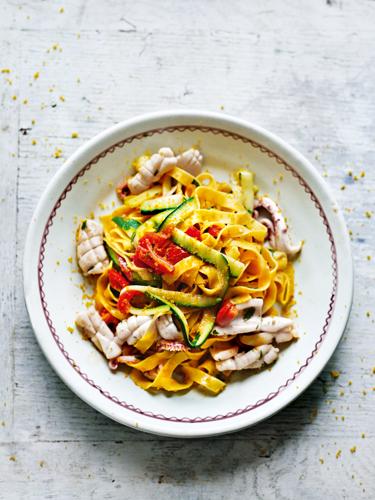 Have you ever tried squid in your tagliatelle?
Where do you source your ingredients?
We get a lot of Italian ingredients from Milan and Verona. We buy as many seasonal vegetables as we can from the UK. Meat-wise we get beef and sweetbreads from our butchers in North Kirby and our butcher from day one, Brian Randalls in Wandsworth, provides amazing Somerset lamb. You have to have a lot of fish suppliers because bad weather can affect how much fish comes in, but I've been buying from a company called South West Co for over 20 years. You can phone at 11pm, they've got the fish in front of them and you can order what you want for the morning.
How has hiring chefs changed over the years?
I always promote within. I will take on a commis chef who is very keen to learn and you teach them from scratch. Over the last year I've had a few chef de parties turn up who have been cooking for six years and they can't even fillet a fish. You don't become a chef overnight, it takes time.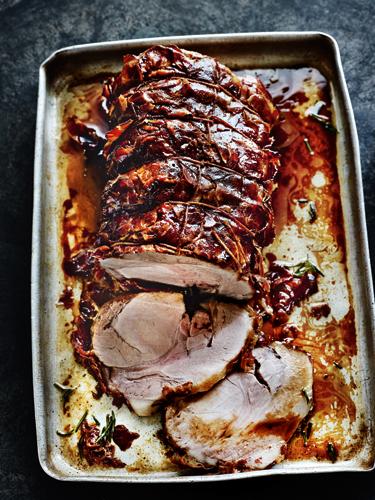 Delicious roasted pork loin wrapped in coppa di parma...
How do you make the perfect ragu?
To get the best flavour we use big pieces of meat like chuck steak. We seal the steak so it gets a nice bit of colour on, then separately fry celery, onion and rosemary until soft. Cook together with tomato passata and loads of red wine for about six hours. At the end we break the meat up with a wooden spoon. We serve it with a very rich egg yolk pappardelle (20 egg yolks per kilo of flour). Bologna is the centre of Parmesan production so there's loads of butter and cream around - if you're making Bolognese add a great big dollop of butter to your ragu, it tastes amazing.
What is the best way of cooking polenta?
Polenta is seasonal, which people don't often realise. The season lasts for six months. You should look for new season polenta or bramata polenta, which is a coarse grain polenta. Really good polenta takes 45 minutes to cook with water and should almost taste like corn on the cob. When it's done it should come away from the sides of the pan like choux pastry. That's when you season and add butter and Parmesan. You can serve it wet with ragu, grill it or deep fry it.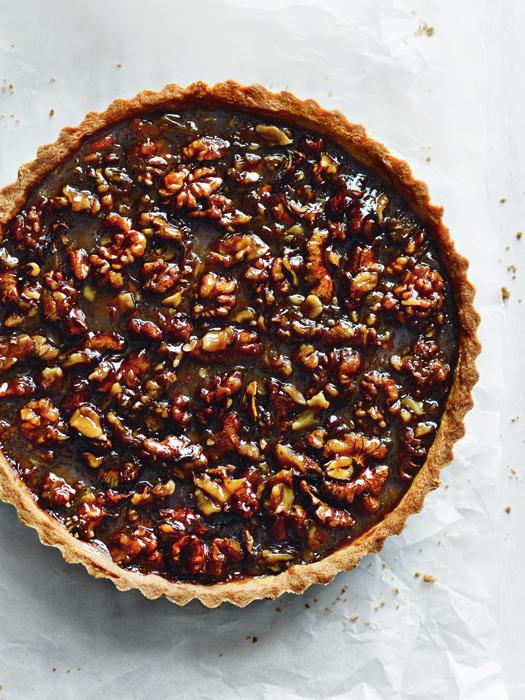 Beautiful walnut orange honey tart
What inspires you?
I love what I do. When you're happy in what you're doing, the inspiration comes quite easily. Ingredients inspire me too - if we get the most amazing porcini mushrooms, or truffles or aubergines I'll be inspired to do something different with them; maybe grilling, maybe frying, maybe making a pasta sauce. There's always something inspiring round the corner.
About the author