Food
10 minutes with Mary McCartney
Mary McCartney – daughter of that little-known Paul McCartney – has just published her second vegetarian cookbook, At My Table. She was brought up helping her mum, Linda, with her vegetarian-cooking brand, so it's hardly surprising that Mary is a big advocate of following a meat-free diet.
We asked Mary for her top tips on going meat-free. There's much more to it than risottos and pasta! Give it a go for a week and let us know how you get on...
What's your all-time favourite menu to cook for family?
That's a hard question to answer as it depends on the time of year and what's in season, but I'm a huge fan of the Mexican menu plan as there's a wide variety of dishes and it's all about sharing.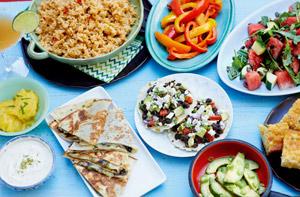 Your black bean burger in the new book looks fantastic – what's the secret to a really tasty veggie burger?
I'd start with a protein base like black beans, kidney beans or firm tofu, then flavour with fried onions and garlic, adding in things like mushrooms, herbs and Yamato soy sauce. I like to eat them sandwiched between burger buns with sliced pickles, tomato, onion, lettuce, mayo, ketchup and mustard.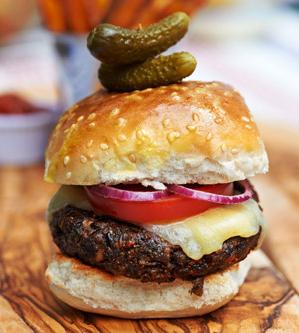 Which 3 vegetables could you not live without?
Carrots because they're high in beta-carotene. Watercress is a great source of iron. Peas for their all-round goodness and versatility.
What tips do you have for those trying to eat less meat?
I have started a new food blog called P for Peckish, where I will post new recipe ideas and inspiration each week, so that's a good place to start.
I'd advise keeping a good selection of ingredients in stock like tinned beans, tinned tomatoes, a variety of fresh fruits and vegetables, free-range eggs, and so on. Once you have a base of good ingredients it's possible to knock up a variety of meals. Keep it convenient and simple.
How do you make sure you get enough protein, especially if you're reducing your dairy intake?
I try to eat a wide variety of proteins such as beans, pulses, nuts, seeds, eggs and marinated tofu. I also add a scoop of protein powder to my breakfast smoothies for an extra protein boost.
Which cuisines from around the world are most inspiring for vegetarian cooking?
I love Mexican cuisine because it naturally uses a lot of my favourite ingredients, such as avocado, limes, tomatoes, beans and chillies, and because the dishes are all so colourful!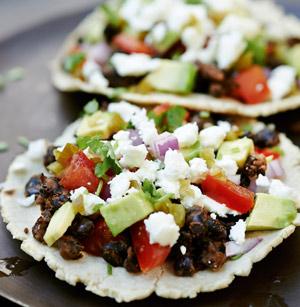 What's your favourite place to eat out in London?
Tibits in Heddon Street, just off Regent Street, is particularly tasty - their amazing buffet of vegetarian treats at lunchtime is truly inspiring.
Which chefs do vegetarian food the best?
I think it's great that more and more chefs are embracing the whole concept. I'm a fan of Jamie Oliver, Hugh Fearnley-Whittingstall, Skye Gyngell and Nigel Slater. I particularly love Nigel's way of cooking – even though he's not vegetarian, he celebrates vegetarian ingredients, and the simplicity of his recipes sing to me.
At My Table: Vegetarian Feasts For Family And Friends by Mary McCartney (Chatto & Windus, £20) is out now.
About the author