Food
10 minutes with Mark Sargeant
Having worked with Gordon Ramsay for 13 years, Mark Sargeant now has a string of restaurants to his name in London and Kent, including a pub, a fish and chip shop, and the newly opened Morden & Lea in London's West End. We chatted to him about gypsy tart, his pal Gordon and crab sausage rolls...
How would you describe the food you cook?
It's really difficult because it's so eclectic. If you say British, what does that mean? As Jamie Oliver always says, we're a 'magpie nation' – my menus are influenced by all different cuisines, but we always use seasonal British produce. So you're getting everything at its best.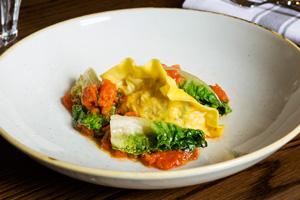 As you're from Kent, do you have any favourite Kent produce?
Everything, really. Our fish is caught from right outside the front door at Rocksalt (Mark's Folkestone restaurant). We've got local farms, where we get all of our meat: chicken, lamb, pork, beef – all in season. And, obviously, we're very famous for fruit in Kent as well – apples and soft fruits, stuff like that. Apples are great for making lots of local cider!
Tell us about Kentish wine...
There's a cracking sparkling wine produced just 15 miles up the road from us on the Gusbourne Estate in Appledore. It's every bit as good as the more high-profile English sparkling wines like Nyetimber and Chapel Down.
You've got a classic Kent dish, gypsy tart, on the Morden & Lea menu – why?
It's my mum's recipe – when I eat it, it's like a trip down memory lane. I'd put it on the menu when I first opened Rocksalt, so when we opened Morden & Lea I had to bring a slice of it up to London. So far loads of people have absolutely gone nuts for it. It is a bit 'Marmite' – it's very, very sweet: all that's in it is evaporated milk and muscovado sugar. You just whip it for ages until it triples in volume and then you basically pour that mousse-like cream into the tart case, bake it for five minutes in the oven and it sets into this really amazing mousse.
What's your favourite dish on any of your menus?
Everyone's talking about the crab sausage roll at Morden & Lea. It's pretty simple; just crab meat wrapped in puff pastry, then we make a really thick ketchup out of the brown meat. It's pretty delicious.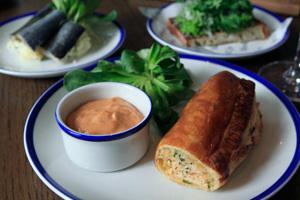 What do you love most about working with food and restaurants?
Every day is different – that's what keeps me excited and gets me up in the morning. If you're lucky enough to work with food, you're constantly eating lots of delicious things. Last week I had two menu tastings on the same day! I went from Plum & Spilt Milk to The Strand Dining Rooms. There are 25 new dishes on each menu, so by the end of I felt a bit 'phwoar'.
How did working with Gordon Ramsay shape you as a chef? Or as a person?
It completely changed everything about me. When I was 24 I went to work with him. You think you can cook, you think you know what you're doing in the kitchen – and then you realise that actually you don't know anything. The way Gordon worked in those days was very, very different to anyone else. Everything was done to its absolute best – from how you were groomed (if you came in in the morning and you hadn't shaved, basically you just got sent home or had to use this really disgusting razor in the toilets), to how well ironed your jacket was, to fastidiously checking all the produce for size, quality... and that's really stuck with me.
What does your role at Morden & Lea involve?
I'm chef director, so my role is really about helping the team. I found the right head chef, Daniel Mertl, and we work together to come up with concepts for the menu and do all the menu tastings. But Dan runs the day-to-day. I have constant meetings about the business with the front-of-house team.
Tell us about the food at Morden & Lea...
Downstairs is smaller plates, so we do open sandwiches (tartines) with lots of different toppings, such as beef and horseradish. The idea is that you just pop in for a casual lunch or dinner and order two or three dishes and a glass of wine. Upstairs is more of a restaurant. We've got a set price, so you know exactly where you stand.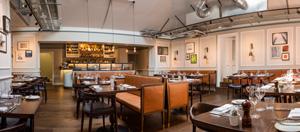 Do you think you're going to be more London-focused now?
I definitely want to do more in Kent – more pubs – but I'd also like to bring my fish and chip shop up to London...
What advice would you give to budding chefs in a very competitive industry?
I think there's a real urgency in young chefs – they're desperate to get to sous chef and have their own restaurant by 25 or 26 years old. They're so young and there's so much to learn. Take your time and stay in one company for a few years to learn everything. And travel! I didn't do any travelling because I was working for Gordon and ended up staying with him for 13 years. As a young guy or girl with no children, no girlfriends or boyfriends – get out there and go travelling! You can do it while working, and earning money, and learning as well.
Morden & Lea is on Wardour Street in central London. (We tried the restaurant upstairs – you're not going to get much better value for money in London!)
About the author