Food
10 minutes with Elena Arzak
We caught up with award-winning chef and Michelin-starred restaurant maestro (and all-round Queen of Basque cuisine), Elena Arzak.
I jumped at the chance to find out how Elena stays true to the culinary roots of the Basque region, while keeping at the very top of food innovation and trends – plus, why she loves all of our British puddings.
A pretty incredible CV
Elena and her father, Juan Mari Arzak, lead the team of chefs behind the legendary Arzak, a three-Michelin star restaurant located in San Sebastián, in the heart of the Basque country (a small region in Northern Spain, very close to the Pyrénées and bordering South-West France).
Arzak received its third Michelin star in 1989 and is still rated one of the world's top restaurants – it's currently eighth. Elena was named Veuve Clicquot World's Best Female Chef in 2012 and also heads up London's Michelin-starred Ametsa restaurant at The Halkin by COMO hotel in Belgravia – here, the menu is a marriage of contemporary Basque cuisine (with Arzak's cutting-edge approach at its core) and good-quality British ingredients.
So, naturally, I was incredibly excited to sit down for 10 minutes with Elena and quiz her on her food philosophy, favourite flavours and future plans.
What is the Arzak food philosophy?
'We love to pair the rustic, earthy flavours of our region with modern techniques and surprising twists – our cuisine is in constant evolution so that we stay at the forefront of innovation.'
What are the key flavours of Basque cuisine?
'There are three main ingredients that we don't know how to cook without! They are olive oil infused with garlic (less strong than using raw garlic), chopped parsley and peppers – you will always find these flavours throughout a true Basque menu.'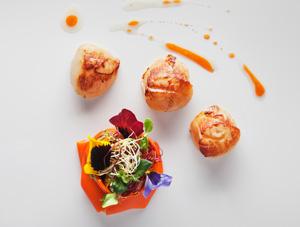 How do you stay true to Basque cuisine if the London menu is constantly changing to keep up with trends and the seasons?

'It's really important to us that the roots of Basque cookery always remain, even with the changing seasons, trends and chefs. Ametsa's head chef Serge Sanz Blanco and the rest of the team visit us in San Sebastián a couple of times a year to stay in touch with Basque cuisine and close to the Arzak approach – and, of course, I visit London as much as I can.'
Which dishes on the Ametsa menu truly represent Basque cuisine – and which are your favourites?

'Fish is a big part of our cuisine due to the region's proximity to the coast – we have lots of great fish on our doorstep in San Sebastián. The UK has some excellent-quality fish, too – we've adapted Arzak dishes to incorporate the best British fish and to suit the British palette. My favourites from the menu at Ametsa are the John Dory with crispy beetroot sauce and the grouper with beans (pictured).'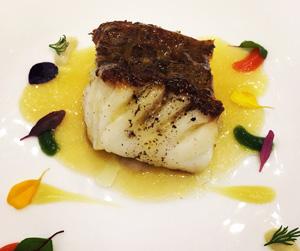 How do British palates differ from Spanish?
'I think that the British prefer stronger spices, more intense flavours and comparatively less salt to Spanish diners. The British also love their greens and vegetables, whereas in Spain, although people do enjoy vegetables, they eat them at home. When they dine at restaurants they don't mind missing out on veg. But I really like this global trend towards eating more vegetables, so we are adapting to this and making sure there are lots of vegetable dishes on our menu.'
What do you think are the next big food trends?
'Quality and sustainability (origin and production) – people are becoming more interested and concerned with the provenance of their food. Secondly, food that is sophisticated rather than elaborate and which appears simple, but in reality is complex.'
When you dine out in London, which are your favourite restaurants?
'I try to go somewhere different every time I visit, from the markets and street food through to the top restaurants. Last time I was in London I went to Dinner by Heston Blumenthal at the Mandarin Oriental. I'd love to go to The Ledbury, too – it's next on my list. London has some fantastic tapas bars, like Barrafina, Brindisa, Ibérica and José Pizarro – it's great that they are all different, with their own personality. For me, it's really important for the future of food that chefs express their own personalities and remain individual.'
What are your favourite British dishes?

'I really love British food! I lived here in the late 1980s and early 1990s, when I worked as a chef at Le Gavroche – British food was at a very good standard even back then. Porridge is one of my favourite things to eat for breakfast when I'm here, because it's totally different to anything we have in Spain – I like to eat it with a little freshly ground black pepper rather than anything sweet. I also love Yorkshire puddings, black pudding, and bread and butter pudding! A lot of pudding!'
We are big fans of San Sebastián and its popular pintxos (Basque tapas) – which are your top three must-try pintxos?

'Gilda is the definitive Basque pintxos. It's white anchovy, pepper and olive on a skewer – everyone must try it when they visit the Basque region. Txangurro donostiarra, or spider crab gratin tartlets, are really popular on our tapas menu at The Halkin Bar. And cucurucho de queso, which is an incredible baked cheesecake to eat alongside a glass of Pedro Ximénez sherry. This is served at one of my favourite bars in San Sebastián, La Viña.'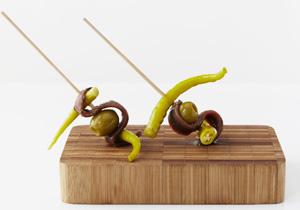 About the author