Food
10 minutes with Donal Skehan
by Sarah Alcock
We chatted to Irish chef and Saturday Kitchen presenter Donal Skehan, just as he'd touched down from New York. Unlike most people off a long-haul flight, he still had bags of energy and spoke to us about presenting, being in a pop band (we bet you didn't know that) and being a brand ambassador for Concern Worldwide...
We love watching you on Saturday Kitchen – is it really tricky to present live TV?
I think the success of my presenting is the fact I thrive on mistakes! There was a situation recently where we were doing the phone-in and I said, 'Hi Helen, what's your name?' And another where we were making Scotch eggs and I couldn't find the meat... You just have to laugh it off. I used to do lots of live cookery demos on tour and anything and everything can go wrong. That was the best training for presenting Saturday Kitchen.
You have nearly half a million subscribers on your YouTube channel – what do you love about it?
I think YouTube breaks all the barriers; you can be yourself and you're setting the rules. It broke me out of that TV presenter mode. The genuine reaction you get from viewers is always entertaining. I love that you're getting real feedback through comments so you can take them on board and improve.
What's your favourite part of your job?
Every day is different for me; one day could be a photo shoot, the next writing recipes and the day after I could be travelling. But I think my favourite thing is actually shooting the recipes – the photography. I do all the photography for my website and books; it's a huge part of what I do. I also love presenting. I used to be in a pop band (Industry) and we'd do gigs in front of 15,000 people and get that amazing roar. Saturday Kitchen is the only thing I can compare it to because you need that same level of energy and adrenaline and I thrive on that.
How did you go from the band to food?
To be honest the food was always the core for me. When I was in the band I started a food blog and I was finishing my first book at the same time we went to number one with our first single. I always felt the food side of things was where my love was and I was also a terrible singer.
Who inspires your food?
My grandmother is definitely an inspiration – she taught my mum how to cook. I have three of her handwritten notebooks, and she has all sorts in there, from soufflés to breads. I also have a collection of hundreds of cookbooks and I always go back to Nigel Slater. Saturday Kitchen has given me some introductions to more wonderful chefs like Andy Oliver from Som Saa who does incredible Thai food. He made one of the best dishes I've ever had on Saturday Kitchen.
What's coming up in your diary?
I'm booked to do Saturday Kitchen once a month until March. And do you remember the TV show Sister Sister? I've just recorded a pilot for Food Network with Tia Mowry. So keep an eye out for that!
You've recently got back from a trip to Malawi – what were you doing there?
Irish charity Concern Worldwide approached me about going on a trip to Malawi, and I was just blown away by the experience. They're suffering from drought at the moment, which has resulted in crop failure and malnutrition. When I spoke to local communities out there, there was so much anger and despair because they know exactly how to grow crops but the environment and climate just don't allow it. Concern Worldwide is building up communities and working with them to protect their livelihoods.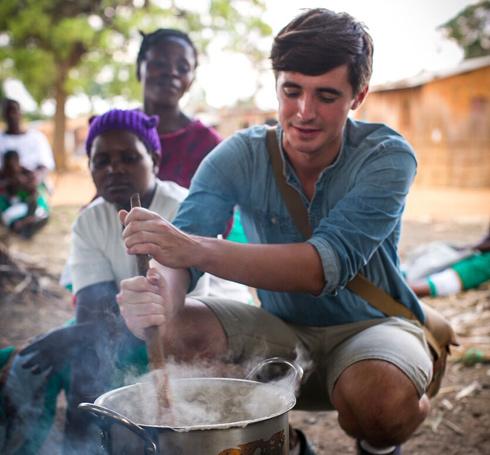 Do you feel a responsibility to use your platform to help charities?
Putting up pictures of recipes every day is lovely, but there comes a point where you can use your platform for more than just that. I think me being able to showcase the stories that Concern Worldwide is working on makes complete sense. It adds value to what you do every day, like you're using your platform for more than just yourself.
Donal is an ambassador for Concern Worldwide
Don`t miss

---