Food
10 minutes with Chetna Makan
You might remember Paul Hollywood waxing lyrical about Chetna's incredible flavours on The Great British Bake Off in 2014. Hers is the kind of food that makes you want to reach into the TV and taste it! Her new book, The Cardamom Trail: Chetna Bakes With Flavours Of The East, captures loads of her Indian-inspired creations – things like rose and honey cake, coconut and cardamom doughnuts and black sesame lime cake! We chatted with Chetna about flavour combinations, childhood memories and what writing her book meant to her...
What foods and flavours do you remember from your childhood?
I remember my mum cooking fresh meals for us. She always made lovely curries and fresh chapatis. The house always smelled of fresh flavours; onions frying, homemade ghee, fresh herbs and the sound of the pressure cooker going off.
Is your hometown in India famous for a particular dish?
My parents live in central India where I was born and brought up. It has the best samosas and kachoris (a spicy dough snack stuffed with dal/onions) and most delicious jalebi (a sweet spiral-shaped treat).
What became your favourite thing to eat when you moved to Britain?
Without a doubt, Victoria sponge and fish and chips
What would you add to these traditional bakes to give them the Chetna touch?
• Victoria sponge – I would add lime zest to the sponge and layer the cake with fresh cream and jam.
• Baked vanilla cheesecake – I would drizzle 2-3 big scoops of salted caramel sauce onto the mix and swirl it with a skewer before baking.
• Lemon drizzle cake – I think sesame seeds are a great addition.
• Jam doughnuts – I would try rolling the doughnuts in a mix of sugar and cinnamon powder before filling them with jam.
• Chocolate cake – Chilli really compliments the chocolate in a very rich chocolate cake.
• Banana bread – I think a bit of honey and ground ginger would go beautifully in banana bread.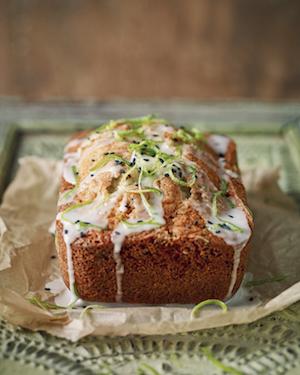 (Chetna's delicious Black sesame and lime cake)
What spices could you not live without and why?
Most of them – but my absolute favourite is cardamom. I love how it is so packed with flavour and how it pairs really well with sweet and savoury foods.
What would you put in your ultimate picnic?
This would have to be my childhood favourite, which is quite popular for picnics in India – it's puri and jeera alu. Puris are deep fried flat breads and they are eaten with jeera alu which are potatoes cooked in cumin, spices and some mango pickle.
How do you make the perfect roast chicken?
Roast chicken is one of my kids' favourite meals. I like to stuff the chicken with lemon, ginger, garlic and herbs and rub a mix of oil, chilli powder, cumin powder and garam masala on top. I put this on a bed of roughly chopped red onions and then roast it.
What do you think is the most under-rated ingredient?
Quite a few, actually: garlic, lentils, star anise and carom seeds (which have a similar taste to anise/oregano).
What does creating your book and seeing the finished result mean to you?
This is a difficult one to put in words. It has been an amazing journey, from the concept stage to actually holding the book in my hands. It has been a lot of hard work and my family has been such great support. My mum has inspired me so much and for every recipe I tried to look back at her cooking and remember her flavours. To actually see it all come to life has been a dream come true.
The Cardamom Trail: Chetna Bakes With Flavours Of The East, by Chetna Makan (£20, Mitchell Beazley) is out now.
About the author