Food
10 minutes with Ben Tish
by Sarah Alcock
Ben Tish is the Chef Director of the Salt Yard Group, the company behind London restaurants Salt Yard, Dehesa, Ember Yard and Opera Tavern. They specialise in Spanish and Italian cuisine – think proper ibérico ham, croquettes and burrata... Mmm. He is an expert in cooking over charcoal and his new book, Grill Smoke BBQ, explores the potential of cooking on a grill. Who knew you could make walnut and coffee cake on a barbecue? Not us!
What was your route into the restaurant business?
I moved to London after my A levels and worked in a restaurant called Coast (a Californian restaurant that was big in the 90s). It had a great team: Jason Atherton, Mark Sargeant, Stephen Terry. I was completely bottom of the ladder but I got to see how exciting cooking was.
Where did your love for barbecuing come from?
I've always liked the theatre of it all; it's a social event. The passion for doing it in a restaurant came from travelling around the Basque Country and Tuscany, where grilling is very commonplace. Every restaurant you go to has a grill at the back and every house has one that's an extension of their kitchen, it's not like here where we roll out our barbecues for a special occasion.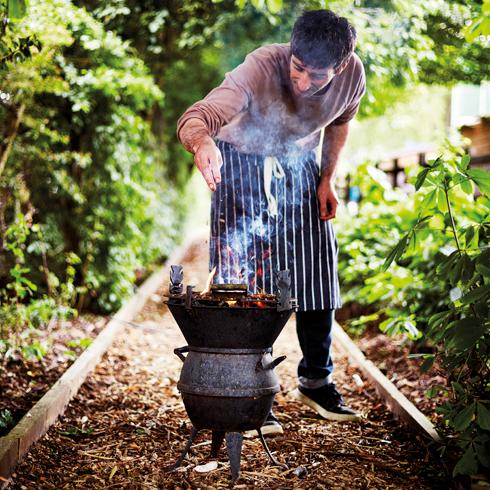 What's your favourite thing to cook on the barbecue?
My Sunday roast, because of the flavour it gets. Chuck all your wood and your charcoal on the barbecue early in the day, put a little tray of water at the bottom to help cool it down and then just place a shoulder of lamb on the edge of the grill. Close the lid and let that cook and smoke for 3 or 4 hours. You'll end up with the most amazing smoky and tender meat that will fall off the bone. Cooking things for a long period of time, gently, with indirect heat in the barbecue is a great discovery.
Should we be branching out from just using charcoal?
Cooking on charcoal is fine but if you add a lump of dried hardwood to your barbecue you will add the most amazing smokiness, particularly if you close the lid – that's how you smoke things.
Do you have any tips for someone who wants to take their barbecuing to the next level?
I think a lot of people mistake barbecuing for grilling – my parents, for example, I don't think they've ever used the barbecue properly in their lives. So I'd say get a nice piece of meat or fish, add some wood, close the lid and you'll really experience what barbecue should taste like because you're capturing the smoke and its flavour and whatever you're cooking on it. But also think about desserts. Whether that's doing a cake on the barbecue (for the more ambitious), or simply grilling some fruits like peaches or strawberries. Just make sure it's super hot before putting fruit on, and serve with ice cream.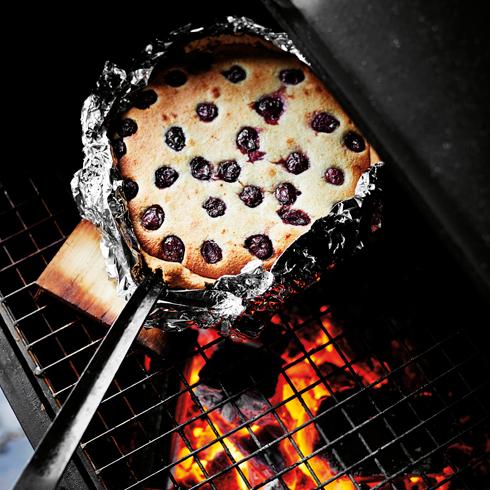 There are so many really expensive barbecues out there. Do you think it's necessary to invest?
No I don't at all. If you're doing it a lot, you would want something more robust – but if you're barbecuing once a month or less then you don't. Make sure it's got a lid with a vent and a temperature thermometer. You dont need to go down the pricey route – as long as it's got those things then it's absolutely fine.
What's your favourite way of cooking fish?
People worry about fish sticking to the barbecue. The way to avoid that is to make sure it is really hot. Sardines, mackerel or salmon grill really well. Oilier fish naturally secrete their oil, which helps lubricate the whole thing. Another great thing is whole flat fish – you can buy brilliant clamps that look almost fish shaped with two handles. You put your flat fish in the clamp, season it, oil it, then grill it like that over the barbecue and because it's in the clamp you can easily turn it. A whole brill would probably take about 7-8 minutes.
Do you have a favourite burger cheese?
I love smoked cheese. My favourite is called idiazábal. It's a Basque cheese that we use in the restaurants. You can get it from Brindisa (a Spanish food shop in London).
Other than grilling halloumi, what vegetarian dishes do you like cooking?
I like to do asparagus and artichokes on the grill – they're even better when they get blackened. You can also cook root vegetables like beetroot in the embers. Just put the vegetables in a foil bag, add lots of herbs, vinegar and butter, then wrap up and nestle underneath the grill. Cook for 2 or 3 hours while the coals die down and you'll have the most beautiful melting vegetables.
What are you excited about in the world of food at the moment?
Thai food is quite exciting. Som Saa (near Spitalfields market, London) has just opened and everyone is talking about it. Also, I think another thing we are going to see more of is pasta – it has been popular for a while but there's been a couple of cool places that are just doing pasta, like Padella in Borough Market.
What's your proudest moment in your career?
Opening Ember Yard. At the time, opening somewhere that cooks 90% of the food over charcoal and wood in Soho was quite a feat. We pulled it off.
I couldn't have got where I am now without...
The guidance of Jason Atherton.
Your ideal day in food?
I'd start at my house, where my wife would cook me breakfast. She's half Indian and does these incredible Indian scrambled eggs flavoured with cumin, turmeric, fresh coriander seeds, onions and peppers on Indian flatbread. Lunch would be somewhere like The Wolseley or The Delaunay – I love the whole experience and the opulence of it. In the evening, I'd end up in a little bistro called Blanchette, which is on D'Arblay Street in Soho, and then roll home!
Grill Smoke BBQ is out now (Quadrille, £25)
Don`t miss

---