Food
10 minutes with… Antonio Carluccio
Cirio is celebrating its 160th anniversary this year. Hannah from the digital team caught up with Antonio Carluccio who is their brand ambassador.
You're representing Cirio, how important is it to you?
People may ask why I'm doing it. It's not for money; I'm doing it out of affection. When I cook for myself, I always use Cirio tomatoes. I've used other brands but they don't compare. It's been going 160 years and it's the best.
What's your favourite way to use Cirio?
I like to make a simple tomato sauce with basil, garlic, olive oil, tomatoes and basil.
What's your favourite pasta dish?
Handmade spaghetti. When you eat pasta, it's a question of preference – there are 600 shapes of pasta. Different sauces go with different shapes. Linguine is best with fish sauces and Bolognese should be tossed with tagliatelle.
Besides tomatoes, what are the three core ingredients that epitomise Italian cooking?
Porcini, then tomatoes. But if I had to choose one more, maybe something more versatile like courgettes.
Do you like making courgetti?
I do, I also like making a parmigiana with courgette instead of aubergine – the recipe's in the new book. I created a recipe for Carluccio's using courgette as a sauce. You thinly grate courgettes, sauté with garlic and olive oil and that's the sauce! Add a bit of Parmesan and some penne and top with spinach balls. It's called penne giardiniera – it's a good vegetarian dish. For every dish sold, 50p went to the charity Action Against Hunger – we collected £1.5 million!
Favourite summer dish?
I very much like melon soup – you take a ripe cantaloupe melon and mince it in a blender or food processor. Add the juice of one lemon, some salt and pepper and eat it as a soup. Top with slivers of anchovies and on a really hot day I add ice cubes, but make sure you take them out after a minute, so the soup doesn't go watery. It's just fantastic.
Do you like pizza?
Very much, pizza is wonderful.
Tomato or bianca base?
Tomato, I like a margherita.
Why do you think Italian food is so popular?
For its simplicity, it's highly regarded. To cook really well, simply, is hard. You need good ingredients and to treat them well. Some people are able to ruin good ingredients; you have to treat them as they are.
Do you grow any of your ingredients?
I used to grow tomatoes – it was fantastic to walk past and smell them. In my garden in London I have 15 types of fruit, in Italy I have lots more – peaches, quinces and grapes and things, which is lovely.
How do you make the best spaghetti Bolognese?
A ragu Bolognese is best kept simple – onion, olive oil, butter, two types of minced meat, and brown meat, add some wine, reduce, add the passata, tomato paste, bubble like the lava of a volcano! Slowly slowly! Couple of hours. A little bit of Parmesan at the end. No herbs, no garlic! No carrots or mushrooms.
Is making pasta easy to do at home?
Yes, very easy, it takes minutes. You just need some flour, eggs, your hands and a rolling pin. Put salt in the water, 10 grams of salt per litre of water, so the salt penetrates the pasta.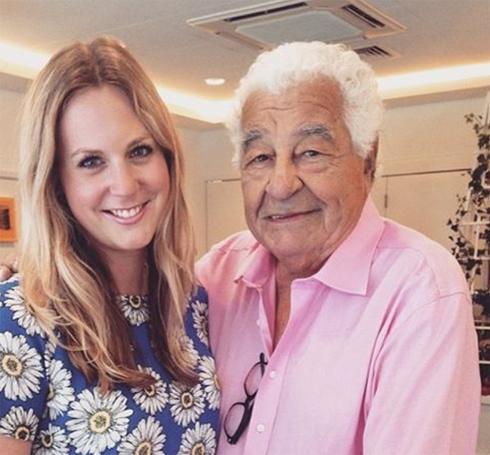 About the author