Sponsored: Sweet potato soup with crispy Prosciutto di Parma
---
Prep time: 20 mins
Total time: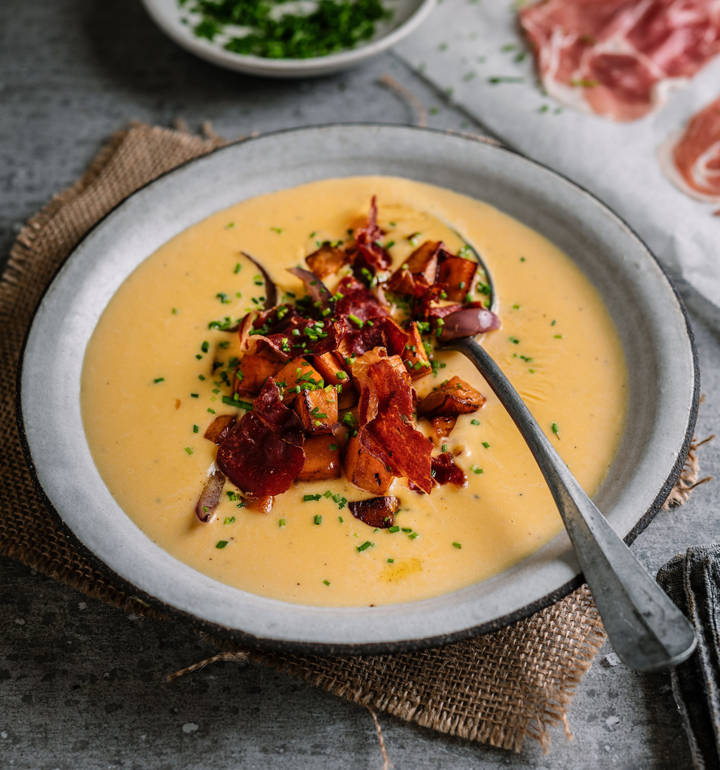 Recipe photograph by Mats Dreyer
Sponsored: Sweet potato soup with crispy Prosciutto di Parma
---
Prep time: 20 mins
Total time:
---
See more recipes
Ingredients
2 slices Prosciutto di Parma
3 medium sweet potatoes (about 450g)
1 medium carrot
200ml single or whipping cream
2 tbsp butter
1 red onion, cut into wedges
finely chopped chives, to garnish (optional)
Step by step
Preheat the oven to 180°C, fan 160°C, gas 4 and line a small baking tray with baking paper. Add the Prosciutto di Parma to the tray and bake for about 10 minutes until crisp and golden. Remove to a plate lined with kitchen paper and set aside to cool before breaking into small pieces.
Bring a pan of salted water to the boil. Peel and chop two of the sweet potatoes and the carrot into large chunks, add them to the pan and cook, covered, for 15 minutes or until tender. Drain the veg (reserving the cooking liquid) and return to the pan along with the cream and 1 tablespoon of butter. Use a stick blender to blend the mixture until smooth – add some of the reserved cooking liquid if the soup is too thick. Season to taste with salt and pepper and reheat if necessary.
Meanwhile, peel the remaining sweet potato and chop into 1cm dice. Heat the remaining butter in a frying pan and fry the sweet potato for 10-15 minutes until tender and golden all over, adding the red onion for the last few minutes of cooking.
Ladle the soup into bowls and top with the fried sweet potato and red onions, and the crispy Prosciutto di Parma. Garnish with the chopped chives, if using.

For a spicy soup with some extra zing, add 1/2 a finely chopped chilli and 1/2 teaspoon of grated root ginger to the soup when blending.
Don't miss

---