Boxing Day soup
Serves
4
|
prep
15mins
|
total time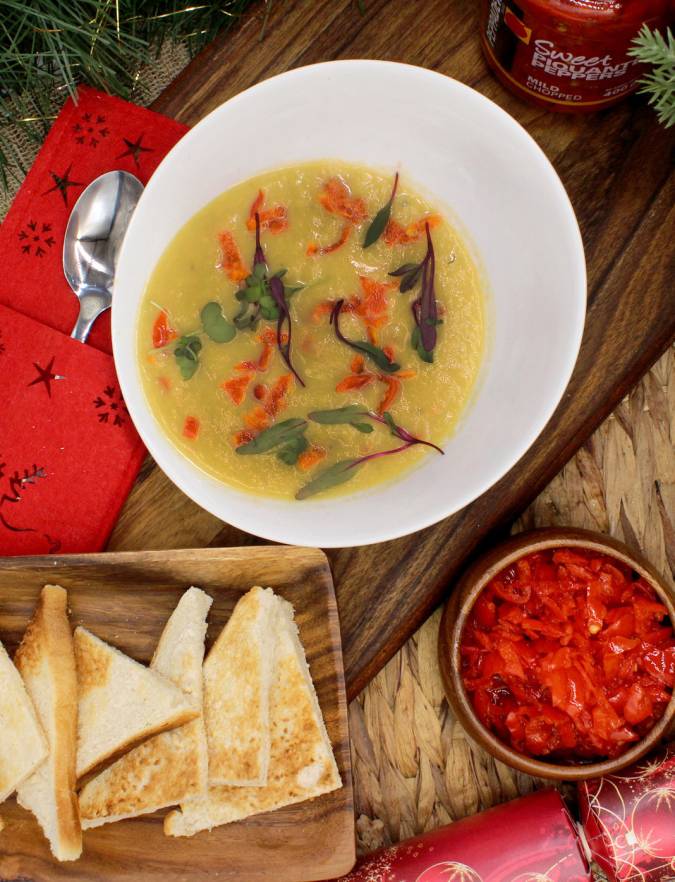 Boxing Day soup
Serves
4
|
prep
15mins |
total time
Ingredients
1 tbsp sunflower oil

1 medium onion, chopped

2 celery sticks, chopped

350g potatoes, peeled and diced

1 tbsp curry paste

1.2 ltr vegetable stock

about 550g leftover roasted or boiled vegetables, such as brussel sprouts, carrots, parsnips and squash, roughly chopped

½ x 400g jar PEPPADEW® Mild Sweet Piquanté Peppers, drained and chopped, plus extra to serve

herb sprigs, e.g. coriander, to serve
Heat the oil in a large saucepan and gently fry the onion for 5 minutes until golden. Stir in the celery and gently fry for 5 minutes, then tip in the potatoes and gently fry for a further 1-2 minutes, stirring often.

Stir in the curry paste, let it cook for a minute or so, then pour in the stock. Bring to the boil and stir well. Lower the heat, cover and simmer for 15-20 minutes until the potatoes are tender.

To serve, tip the leftover veg & PEPPADEW® Sweet Piquanté Peppers into the pan and warm through for a few minutes. Pour the soup into a food processor or blender and blitz to a smooth purée. Thin down to the consistency you like with hot water or stock then taste for seasoning. Cool and freeze, or serve in bowls with a scattering of PEPPADEW® Sweet Piquanté Peppers and herb sprigs. Try adding a spoonful of yogurt or crème fraîche swirled on top.