Keema and dill pulao
---
Prep time: 65 mins
Total time: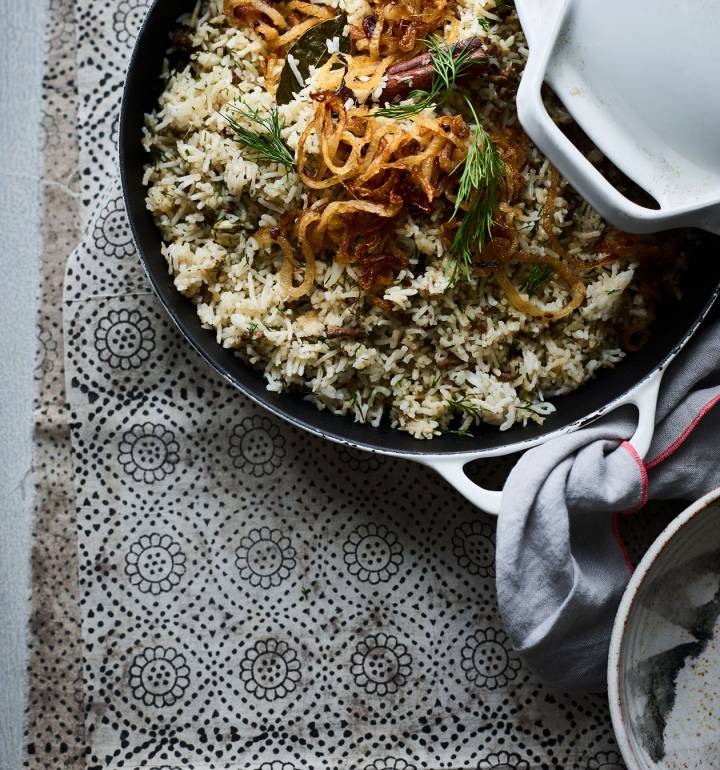 Recipe photograph by Maja Smend
Keema and dill pulao
'This fragrant rice dish can be made with any kind of mince – even turkey or soya,' says Darjeeling Express founder Asma Khan. 'Dill adds a distinctive fresh flavour'
---
Prep time: 65 mins
Total time:
---
See more recipes
---
Nutritional information (per serving)
---
Ingredients
For the keema
4 tbsp vegetable oil
1 cardamom pod, bashed
½ cinnamon stick
1 small bay leaf
1⁄4 onion, finely chopped
½ tbsp grated ginger
1 large garlic clove, crushed
150g minced lamb or beef
a generous pinch of mild chilli powder (optional)
For the pulao
300g basmati rice
1 medium white onion
2 cardamom pods
2 whole cloves
½ cinnamon stick
1 large bay leaf
1 heaped tsp fine sea salt
3 tbsp roughly chopped dill, plus a few sprigs
Step by step
Wash the rice in several changes of cold running water. Leave to soak for 30 minutes in a bowl of cold water.
To make the keema, heat 2 tablespoons of oil in a nonstick frying pan on medium-high heat. Add the cardamom pod, cinnamon stick and bay leaf, followed immediately by the chopped onion. Stir for a minute, then stir in the grated ginger and crushed garlic.
Add the minced meat, breaking it up with the back of the spoon to make sure it does not cook in clumps. Season to taste, and add the chilli powder if using. Cook the mince, uncovered, for 10 minutes until browned. Remove from the heat and keep aside.
To make the pulao, peel the onion, cut in half and slice into thin rings all the same thickness so they brown at the same time. Heat 2 tablespoons of oil on medium- high heat in a thick-bottomed pan with a lid. Fry the onions until they are brown and caramelised, about 15-20 minutes. Remove with a slotted spoon and drain on a plate lined with kitchen paper, spreading them out on the plate so they can become crisp as they cool. Add the cardamom, cloves, cinnamon and bay leaf to the oil.
Drain the rice and add it to the pan. After 1 minute of coating the rice with the spice-infused oil, add 600ml hot water from a kettle. Add the salt and the cooked mince (keema) to the rice pan. Let the rice absorb the water, 4-5 minutes, with the pan uncovered and the heat on medium-high. Once it looks like most of the water has been absorbed, reduce the heat to very low and cover the pan with the lid. After 15 minutes, mix the rice gently with a fork and add the chopped dill. Cover and leave for a few minutes before serving with the reserved golden onions and a few dill sprigs on top.

Recipe from Darjeeling Express

To make the dish quicker to prepare, buy crispy onions instead of frying your own.
Don't miss

---