Sponsored: Parma ham, beetroot and fig salad
---
Total time: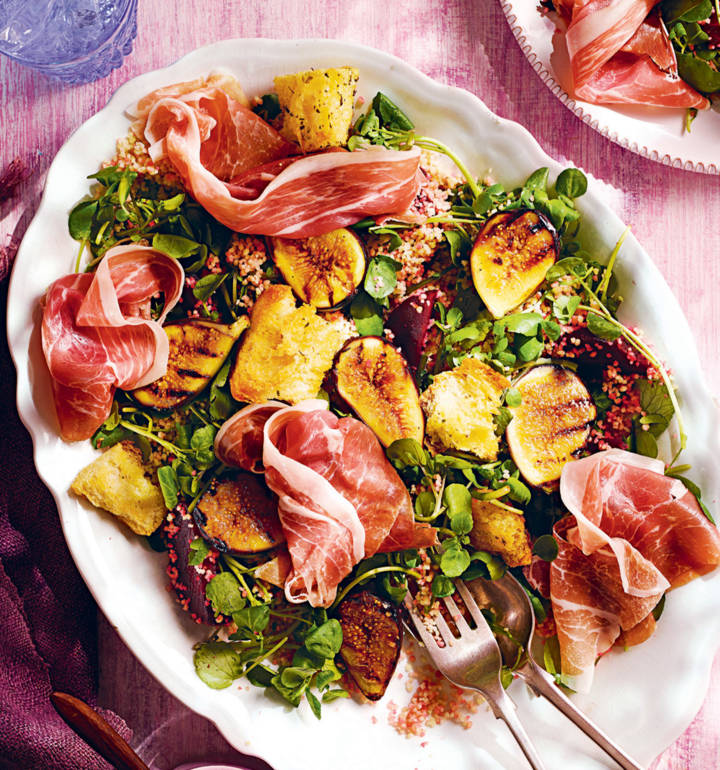 Sponsored: Parma ham, beetroot and fig salad
Dine al fresco with an easy summer salad that's on the table in just 30 minutes
---
Total time:
---
See more recipes
Ingredients
100g couscous
50ml olive oil, plus extra for brushing
1 garlic clove, crushed
½ tsp dried mixed herbs
75g baguette, torn into 2cm chunks
6 figs, halved
300g watercress
250g pack cooked natural beetroot, cut into wedges
80g pack Parma Ham by Sainsbury's
For the dressing
1 tbsp clear honey
2 tbsp lemon juice
5 tbsp soured cream
Step by step
Preheat the oven to 180°C, fan 160°C, gas 4. Put the couscous into a medium bowl and pour over 150ml just-boiled water. Stir well, cover and leave to stand for 5 minutes. Fluff up the grains with a fork, then leave to cool. Preheat the grill to high.
To make croutons, put the oil in a bowl with the garlic and mixed herbs. Season with salt and freshly ground pepper. Toss the bread chunks in the oil. Spread out on a nonstick baking tray and bake for 10 minutes, turning once.
For the dressing, combine all the ingredients in a small bowl, season well with salt and freshly ground pepper, then set aside.
Brush the figs with olive oil and put on a foil-lined tray under a hot grill. Cook for 1-2 minutes each side. Or griddle in a hot griddle pan for 2 minutes each side.
Gently toss the watercress, beetroot and couscous together. Arrange on a serving platter and top with the grilled figs, Parma Ham and croutons. Drizzle with some of the dressing and serve with the remainder on the side.
Don't miss

---