Pork steaks with leek champ and minty peas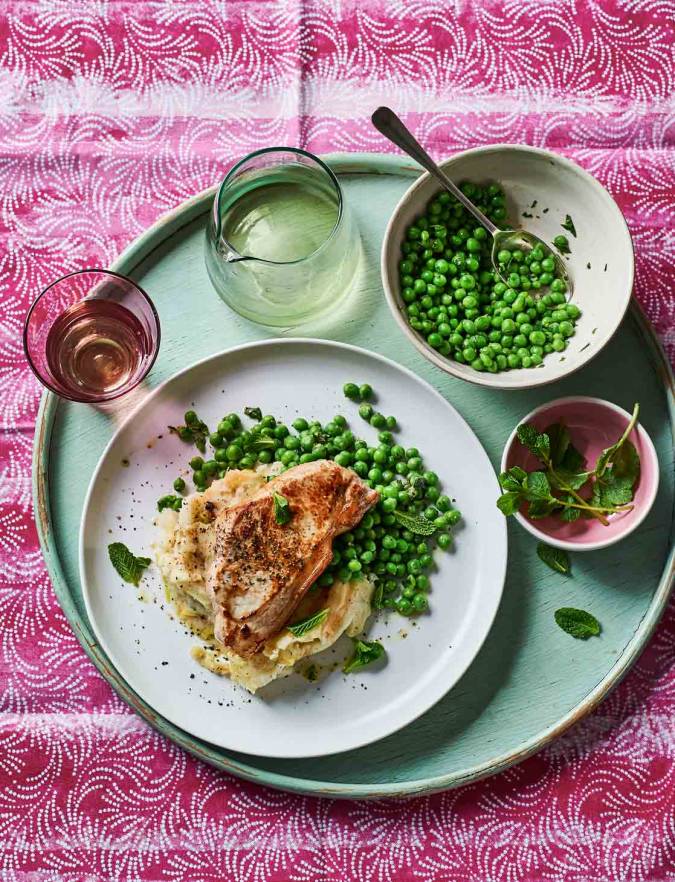 Nutritional information (per serving)
See more
Ingredients
500g floury potatoes, peeled and cut into chunks

3 tsp olive oil

1 leek, trimmed and finely sliced

2 pork loin steaks, about 150g each

2 tbsp soft butter

150g frozen peas

1 tsp Dijon mustard

a pinch of sugar (any type)

1 tbsp white wine vinegar

½ x 28g pack mint, leaves picked and chopped
Cook the potatoes in boiling salted water for 15 minutes or until tender when pierced with a knife.
Meanwhile, heat 2 teaspoons of oil in a frying pan and fry the leek for 5-10 minutes until soft, then transfer to a bowl. Wipe out the pan with kitchen paper and rub the pork steaks with the rest of the oil, then season them. Sear the pork steaks in the pan, fat side down first, for 3 minutes to crisp, and then cook for 4-6 minutes on each side until cooked through. Remove from the pan and rest.
Drain the potatoes well and mash with the butter and some seasoning. Stir in the leeks.
Pour a kettle of boiling water over the peas in a heatproof bowl, leave for 2 minutes, then drain. Whisk the mustard, sugar, vinegar and seasoning together. Toss with the drained peas and stir through the mint. Serve with the champ and pork chops.