Creepy crackers
Makes
around 36 (depending on the size of your cutter)
|
total time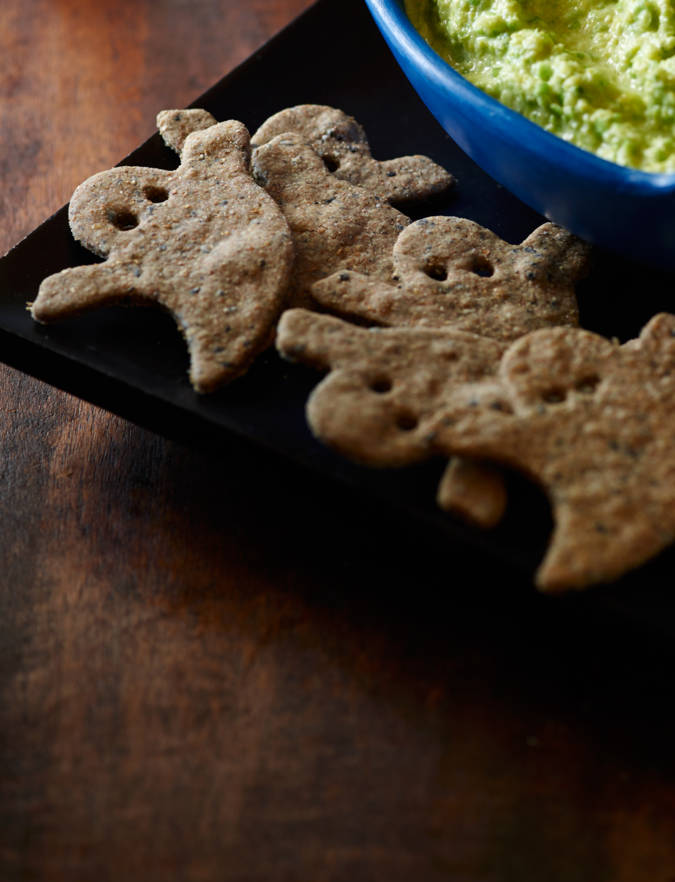 Nutritional information (cracker)
See more
Ingredients
2 tbsp black sesame seeds

½ tsp sea salt

125g plain wholemeal flour, plus extra for dusting

½ tsp dark brown sugar

2 tbsp olive oil

½ tsp sesame oil
Get ahead
The crackers stay crisp for up to 4 days in an airtight container. They can also be frozen. You will need a ghost-shaped or another spooky cutter (we used a 7cm one, but larger ones will also be fine).
Preheat the oven to 180°C, fan 160°C, gas 4. Grind the sesame seeds and salt using a pestle and mortar. Stir into the flour in a bowl, and rub in the sugar to break up any lumps.
In a small bowl or jug, combine the olive oil, sesame oil and 5 tablespoons of warm water. Add to the dry ingredients and knead together to give a pliable but not sticky dough. Turn out onto a floured surface and roll out thinly (about 2mm thick). Use a palette knife to make sure the dough isn't stuck to the work surface, then use a cutter to stamp out ghosts. Transfer to baking trays lined with baking paper. Re-roll the dough as necessary. Use the tip of a small icing nozzle, or a skewer, to make eyes on the ghosts.
Bake the crackers for 12-15 minutes until crisp and dry (they won't colour much). Transfer to a wire rack to cool, and store in an airtight container.
The dough for these crackers is quite pliable and forgiving to work with. When cut into a more standard shape (such as discs, squares or rectangles), they are good with a cheeseboard.