Almond banana pancakes with vanilla yogurt and berries
---
Prep time: 25 mins
Total time: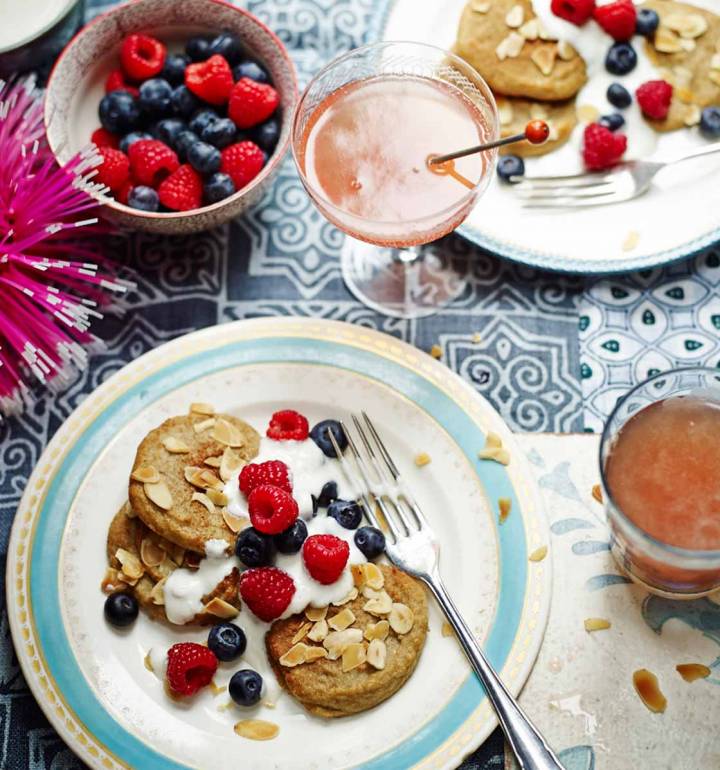 Almond banana pancakes with vanilla yogurt and berries
---
Prep time: 25 mins
Total time:
---
See more recipes
---
Nutritional information (per serving)
---


Ingredients
For the pancakes
3 ripe bananas
4 medium eggs (we use organic) lightly beaten
1 tbsp vanilla extract
250g ground almonds
a knob of butter, for greasing
a pinch of ground cinnamon, to dust
25g flaked almonds, plus extra to sprinkle on top
100g raspberries
100g blueberries
For the vanilla yogurt
a few drops of vanilla extract
250ml natural yogurt
1-2 tsp honey or maple syrup, to taste
Step by step
Preheat the oven to 180°C, fan 160°Cgas 4. Line 2 large baking sheets with baking paper and pop them in the oven while you prepare your batter.
Mash the bananas well with a fork, transfer to a large bowl and whisk in the eggs, vanilla and a large pinch of salt. Mix in the ground almonds to make a smooth batter (or blend it all in a blender or food processor).
Remove the trays from the oven; carefully grease the baking paper with a little butter.

Only fresh fruit, cinnamon and vanilla are used to sweeten – we like the sour flavour of natural yogurt, but add a dash of honey if you like it a little sweeter.

Spoon 2 tablespoons of the mixture for each pancake onto the tray. Use the back of a spoon to smooth out the top and spread it slightly to make them about 7cm in diameter (you may need to do this in batches).
Sprinkle with a little cinnamon and top with the flaked almonds; bake for 10 minutes.
Mix a few drops of the vanilla extract into the yogurt with the honey, if using.
Serve the pancakes topped with a dollop of yogurt and a handful of berries and almonds.
No need to flip or even fry – these gluten-free pancakes are super quick and really easy as they are baked in the oven rather than cooked in a pan.
Don't miss

---