Ham, mushroom and chestnut pie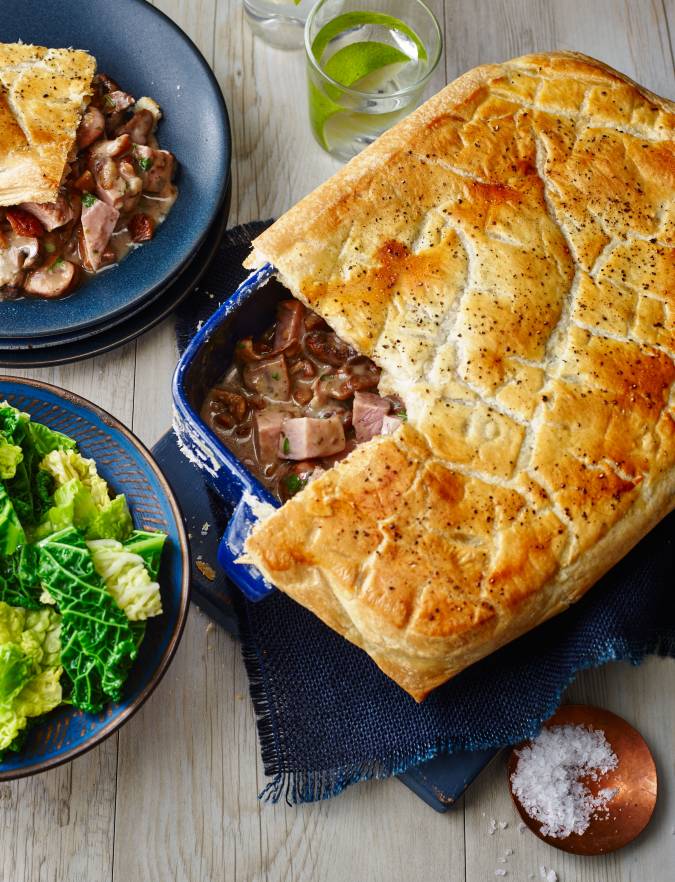 Nutritional information (per serving)
See more
Ingredients
1 x 500g roasted ham joint, or 500g leftover cooked ham

1 x 200g pack cooked chestnuts, roughly chopped

1 x 250g pack chestnut mushrooms, thinly sliced

a handful of flat-leaf parsley, chopped

2 x 350g tubs fresh mushroom sauce

beaten egg, to glaze

1 x 375g pack ready-rolled puff pastry
Preheat the oven to 200°C, fan 180°C, gas 6. Cut the ham into bite-sized chunks and tip into a large bowl. Add the cooked chestnuts, sliced mushrooms and chopped parsley. Stir in the mushroom sauce and season with black pepper. Tip into a 20cm x 28cm ovenproof dish (just smaller than the sheet of pastry).
Brush the edge of the dish with beaten egg. Unroll the pastry and place on top of the filling, pressing down along the edges of the dish; brush the top with more beaten egg. Make a hole in the centre, place the pie on a baking tray and cook in the oven for 45 minutes, or until the pastry is golden and the filling is piping hot.

Tip This is a great way to use up leftover turkey, too – use 350g cooked turkey with 150g of the ham.
Serve with buttered savoy cabbage and mash, or with jacket potatoes baked alongside the pie.