Slow-roasted pork belly with salsa verde
Serves
4-6
|
prep
10 mins
|
total time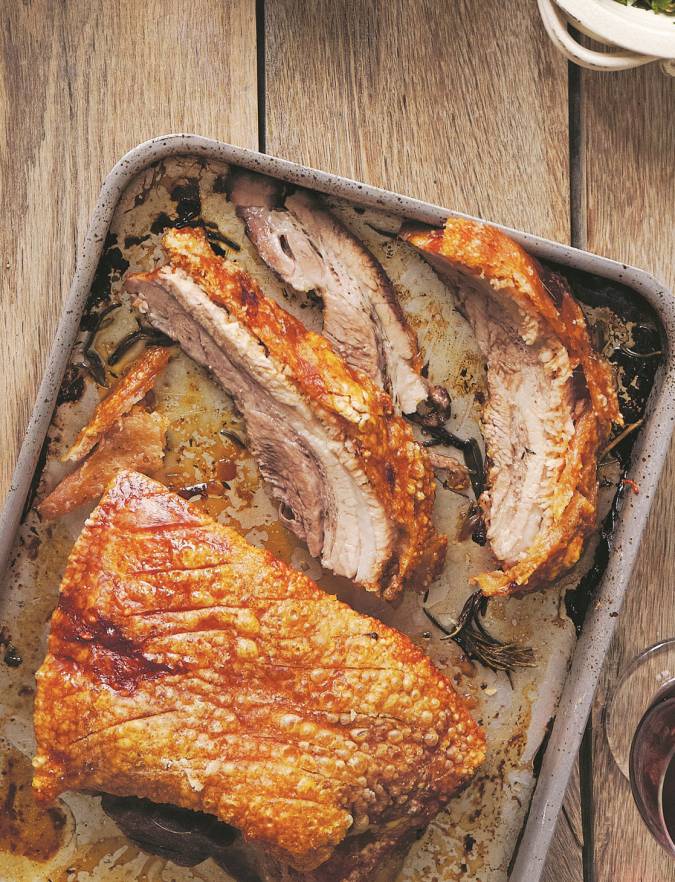 Nutritional information (per serving)
See more
Ingredients
2kg pork belly

2 onions, peeled and finely sliced

a small handful of rosemary

a small handful of thyme

200ml dry cider or white wine

300ml chicken stock or water
For the salsa verde:
a big handful of parsley leaves

1 tsp finely chopped rosemary

a small handful of mint leaves

1 garlic clove, peeled and roughly chopped

2 tbsp capers

12 anchovy fillets

1 tbsp Dijon mustard

juice of 1 lemon

100ml olive oil
Get ahead
Make the salsa verde up to a day ahead. Salt the pork 4½ hours before you want to eat.
Using a very sharp knife – I use a scalpel – score the meat at 1cm intervals. Scatter some salt over the skin and leave for 1 hour. This draws out excess moisture and gives you crisper crackling. Preheat the oven to 220°C, fan 200°C, gas 7.

Pat the pig skin dry and shake off any excess salt. Pile the onions and herbs in a roasting pan and lay the pork belly on top. Try not to leave any stray pieces of onion poking out from under the pork, as these have a tendency to burn. Roast the pork in the oven for 20 minutes, then turn the oven down to 160°C, fan 140°C, gas 3, and roast for a further 2½ hours.

Meanwhile, make the salsa verde by thoroughly blending or finely chopping all of the ingredients apart from the olive oil. Slowly stir or blend in the oil and season with pepper. Taste and add a little salt if necessary. Cover and chill.

Tip

You could make this a one-pot dish by slicing some new potatoes and cooking them under the pork with the onions.

Remove the pork and transfer to a carving board to rest. If at this point the crackling isn't as crisp as you'd like, put the pork in a different roasting pan and back in the oven at 220°C, fan 200°C, gas 7, until crisp. Tip away the excess fat from the original roasting pan, then put the pan over a high heat. Add the cider or wine and simmer for a minute or so, scraping up all the pan juices, then add the stock or water and simmer for 10 minutes. Taste for seasoning and add a little salt and pepper if necessary. If you've been crisping up the crackling, rest the pork belly for 5-10 minutes before serving.

Carve the pork and crackling into nice thick chunks, and serve with a spoonful of the gravy and a good dollop of salsa verde.
Pork belly has become something of an essential element of pub menus, and for good reason – it's cheap, simple to cook, versatile 
and delicious. Being quite a tough, fatty cut, it responds best to long, slow cooking, giving the fat a chance to render and the meat a chance to soften. You are left with one of the most luscious 
pieces of meat imaginable. And the oven's done all the work