Vietnamese-inspired fish skewers
---
Prep time: 30 mins
Total time: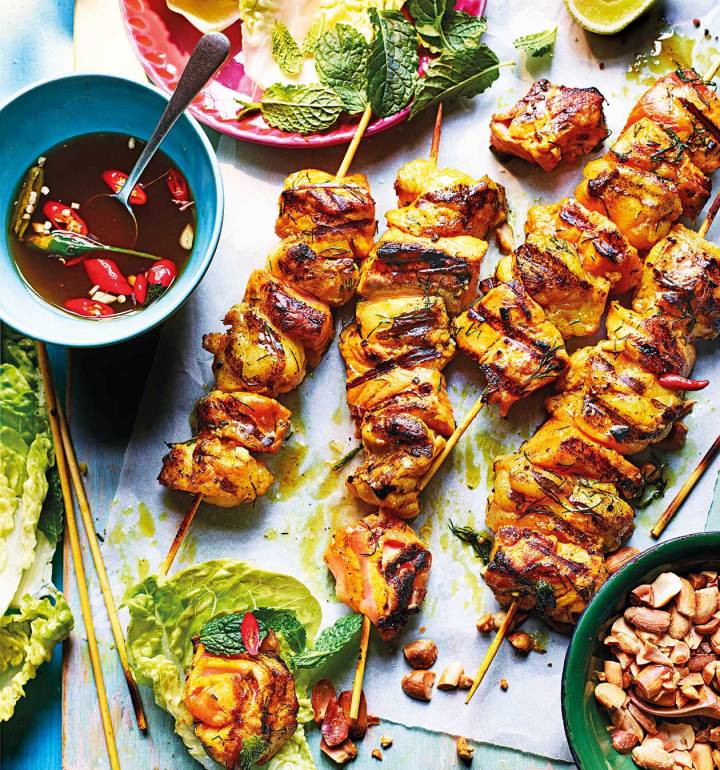 Recipe photograph by Kris Kirkham
Vietnamese-inspired fish skewers
This marinade is really versatile and would also work well with chicken, tofu, cauliflower or even whole mackerel fillets
---
Prep time: 30 mins
Total time:
---
See more recipes
---
Nutritional information (per serving)
---
Ingredients
1 tbsp rapeseed oil
2 tbsp light brown sugar
1 tsp ground turmeric
1 tbsp Thai fish sauce
1 garlic clove, crushed
1 tbsp grated root ginger
½ red bird's-eye chilli, deseeded and finely chopped
2 tbsp chopped dill
480g salmon fillet, skinned and cut into 2cm chunks
500g monkfish fillets or cod loin, cut into 2cm chunks
For the nuoc cham dipping sauce
2 tbsp light brown sugar
1 garlic clove, finely chopped
2 tbsp lime juice
2 tbsp rice (or cider) vinegar
2 tbsp Thai fish sauce
½ red bird's-eye chilli, finely sliced
To serve
2 Little Gem lettuces, leaves separated
60g roasted peanuts, roughly chopped
1 x 30g pack mint, leaves only
lime wedges
Step by step
Prep to the end of step 2 up to 3 hrs ahead. Don't marinate the fish for any longer or the acid in the marinade will start to 'cook' it, making it toughen.
In a large bowl mix together the oil, sugar, turmeric, fish sauce, garlic, ginger, chilli and dill. Add the fish and toss to coat. Cover and marinate in the fridge for 1 hour. Soak 8 bamboo skewers in cold water for at least 30 minutes.
For the nuoc cham dipping sauce, dissolve the sugar in 5 tablespoons boiling water then stir in the garlic, lime juice, vinegar, Thai fish sauce and sliced chilli. Leave to infuse for at least 15 minutes.
Heat your barbecue or grill to a medium heat. Thread the fish onto the soaked skewers, alternating salmon and monkfish (or cod). Cook for 8-10 minutes, turning occasionally until cooked through and starting to caramelise. Serve as a sharing plate with the Little Gem leaves, roasted peanuts, mint leaves and lime wedges, with the nuoc cham in a small bowl.
To eat, fill a lettuce leaf with a couple of chunks of fish, a sprinkle of peanuts, a few mint leaves and a squeeze of lime, wrap and dip in the nuoc cham and enjoy eating them with your hands.
Don't miss

---