Veggie halloumi kebabs with freekeh, orange and walnut salad
---
Prep time: 1 hr
Total time: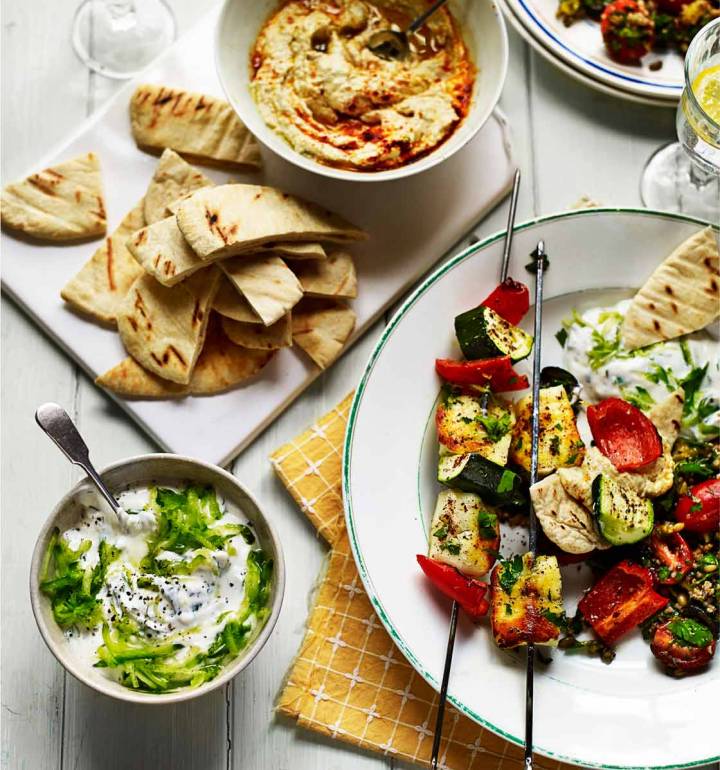 Recipe photograph by Kris Kirkham.
Veggie halloumi kebabs with freekeh, orange and walnut salad
---
Prep time: 1 hr
Total time:
---
See more recipes
---
Nutritional information (per serving)
---


Ingredients
For the marinade
2 tsp dried oregano
3 garlic cloves, crushed
6 tbsp olive oil
zest and juice of 2 lemons
For the kebabs
4 medium courgettes, thickly sliced
3 red peppers, deseeded, cut into chunks
2 x 250g packs halloumi, cut into chunks
sumac and chopped parsley or mint, to sprinkle
1 x 230g tub houmous, to serve
sliced toasted pitta, to serve
For the salad
1 x 250g pack Pomodorino baby plum tomatoes, halved
1 x 100g pack walnut halves, chopped
3 tsp sumac
3 tbsp red wine vinegar
6 tbsp olive oil
1 x 250g pack Merchant Gourmet ready-to-eat red and white quinoa
1 x 250g pack Merchant Gourmet ready-to-eat freekeh
4-6 green chilli peppers from a jar, sliced
a handful of pitted black olives, halved
1 large orange, peeled and diced
1 x 100g pack flat-leaf parsley, stalks discarded, leaves chopped
½ x 25g pack dill, chopped
½ x 28g pack mint, leaves only, chopped
For the tzatziki
¼ cucumber
1 x 170g tub Greek yogurt
¼ x 28g pack mint, leaves only, chopped
extra-virgin olive oil, to drizzle
Step by step
Marinate the kebab ingredients up to 1 day ahead and make the salad at the same time, but add the herbs to the salad shortly before serving; keep everything chilled.
Mix the ingredients for the marinade in a mixing bowl and add some seasoning, the courgettes, pepper chunks and halloumi, toss together and set aside to marinate.
For the salad, mix all the ingredients together in a large bowl with some seasoning – it will need quite a bit.
For the tzatziki, coarsely grate the cucumber (no need to peel it). Tip the cucumber into a sieve over a bowl, sprinkle with a little salt and set aside for 15 minutes. Meanwhile mix the yogurt with the mint and some seasoning. Tip the cucumber onto kitchen paper and pat dry (discard the liquid) and mix into the yogurt, finish with a little black pepper and a drizzle of olive oil.

Leftover herbs? Chop then mix them with soft butter and roll into a sausage shape in clingfilm. Chill (or freeze) and slice to top barbecued meat or fish.

Preheat the grill to high. Thread the marinaded vegetables and cheese onto 12 skewers and put them onto 1 large or 2 smaller baking trays. Grill for 10 minutes, turning them regularly and brushing them with the marinade.
Serve the kebabs, sprinkled with sumac and parsley or mint with the salad, tzatziki, the houmous sprinkled with sumac and the toasted pitta.
Don't miss

---