Swedish sandwich cake
---
Prep time: 1 hr 30 mins
Total time: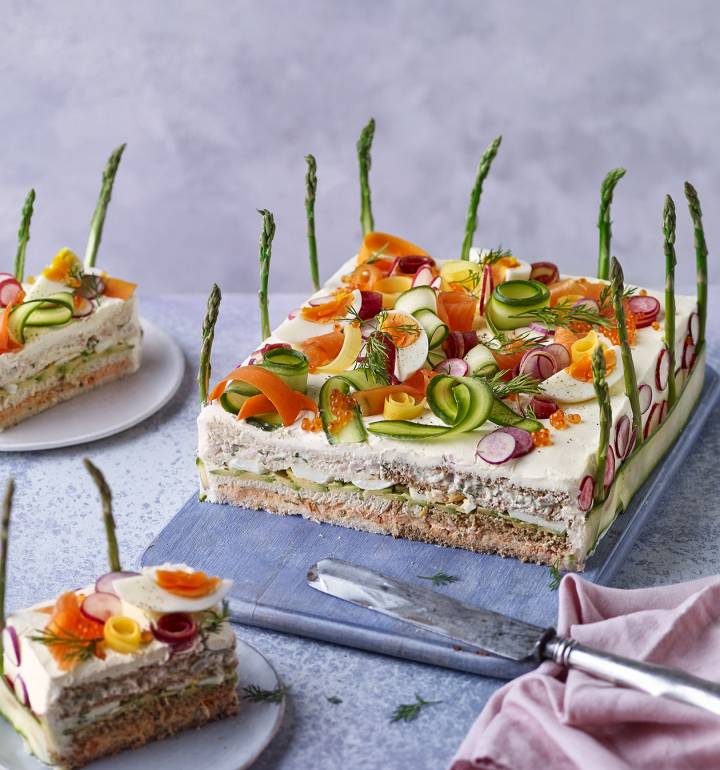 Recipe photograph by Nassima Rothacker
Swedish sandwich cake
Celebrate the arrival of spring with this Swedish sandwich cake, or smörgåstårta, by Swedish food writer and stylist Steffi Knowles-Dellner
---
Prep time: 1 hr 30 mins
Total time:
---
See more recipes
---
Nutritional information (per serving)
---
Ingredients
24 slices soft white or wholemeal bread (or a mixture of both), crusts removed
8 hard-boiled eggs: 5 sliced and 3 quartered
3 ripe avocados, flesh sliced lengthways
300g light soft cheese (at room temperature)
½ x 300ml pot half-fat crème fraîche
zest of 1 lemon
For the salmon filling
200g hot smoked salmon (or trout), flaked
½ x 300ml pot half-fat crème fraîch
3 tsp horseradish sauce
½ x 20g pack chives, finely chopped
zest and juice of 1 lemon
For the prawn filling
1 x 250g bag cooked and peeled cold water prawns, defrosted and roughly chopped
100g light mayonnaise
100g natural thick Greek yogurt
½ x 20g pack dill, chopped
1 tbsp rainbow trout 'caviar' (optional)
zest and juice of ½ lemon
To decorate
100g fine asparagus, halved lengthways
10 radishes, thinly sliced
1 cucumber, shaved into ribbons (discard the seedy core)
2-3 rainbow carrots(or use regular), shaved into ribbons
100g smoked salmon
1-2 tbsp rainbowtrout 'caviar' (optional)
a few sprigs of dill and/or watercress
Step by step
The assembled sandwich cake can be made and chilled up to 24 hours ahead. Bring it to room temperature before serving.
First make the fillings; use a fork to combine the salmon, créme fraîche, horseradish, chives and lemon zest in a bowl, adding the lemon juice and seasoning to taste. Mix the prawn filling ingredients in another bowl and season. Cover and chill, if prepping ahead.
Place a sheet of baking paper over a large cutting board. Lay out 6 slices of crustless bread on the board in two rows of 3 slices,to form a rectangle. Spread the salmon filling evenly over the bread, then top with another 6 slices. Arrange the avocado and sliced eggs on top; season lightly. Add the next layer of bread, followed by the prawn filling, spreading all the way out to the sides. Finish with the last 6 slices of bread, pressing down slightly. Chill for 1 hour to firm up.
Beat together the soft cheese, créme fraîche and lemon zest until just combined. Spread over the top and sides of the sandwich cake with a palette knife; return to the fridge to set for at least 2 hours (or overnight).
To decorate the cake, press raw asparagus and radish slices around the sides. Wrap ribbons of cucumber around the base of the cake. Top the cake with more cucumber ribbons, radish slices and carrot ribbons and the quartered eggs. Make salmon 'roses' by wrapping thin strips of smoked salmon around your finger, then dot these around the top. Finally, finish the sandwich cake with small spoonfuls of 'caviar', if using, and the dill sprigs and/or watercress. Chill until ready to serve.
Don't miss

---