Sticky hoisin turkey meatball wraps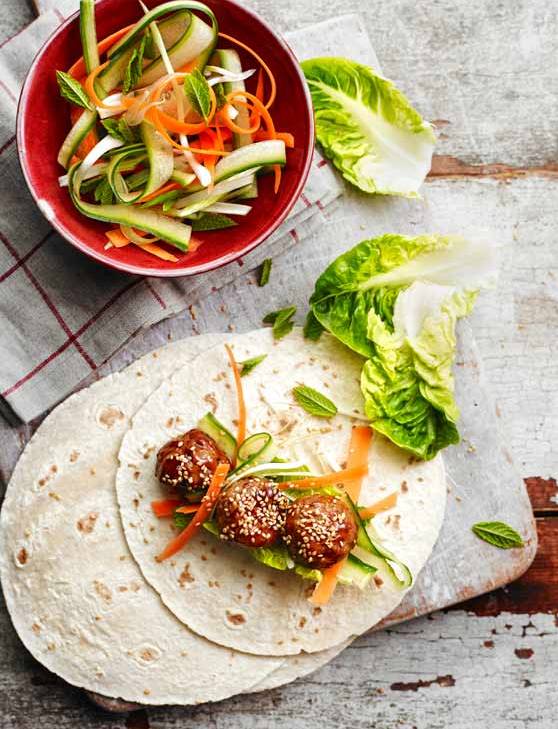 Nutritional information (per serving)
See more
Ingredients
1 tbsp vegetable oil

1 x 400g pack turkey meatballs

4 tbsp hoisin sauce (we like the Itsu brand)

1½ tsp sesame seeds

1 carrot, peeled

½ cucumber

4 spring onions

1 tbsp rice vinegar (or white wine vinegar)

a handful of mint leaves

a few soft lettuce leaves

4 small soft tortilla wraps
Heat the oil in a nonstick frying pan, add the meatballs, cover with a lid and fry on a medium heat for 25 minutes, turning frequently. Add the hoisin sauce and sesame seeds, and cook for a further 5 minutes, turning the meatballs to coat them in the sticky sauce, until cooked through.
Meanwhile, use a flat-bladed peeler to make thin ribbons of the carrot and cucumber, and finely shred the spring onions. Toss the vegetables with the vinegar and a pinch of salt. Add the mint leaves just before serving.
To serve, place a lettuce leaf on each wrap, top with a handful of the shredded salad and 3 meatballs and wrap up (makes 2 wraps per serving).