Steak with creamy cavolo nero and mushrooms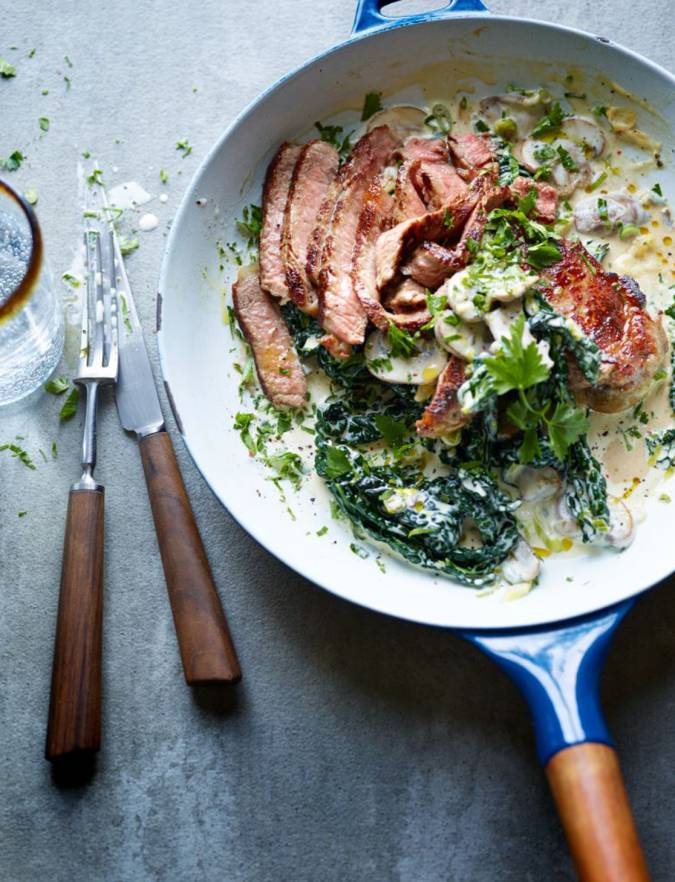 Nutritional information (per serving)
See more
Ingredients
½ tbsp coconut oil

240g sirloin steak, trimmed of visible fat

small knob of butter

50g cavolo nero, leaves only

2 spring onions, trimmed and finely sliced

3 chestnut mushrooms, finely sliced

60ml double cream

15g blue cheese (I like Roquefort)

small handful of parsley, roughly chopped
Melt the coconut oil in a frying pan over a high heat. When blisteringly hot, carefully lay in the steak and fry for 3-4 minutes on each side (for medium-rare). When cooked to your liking, remove the steak to a plate to rest until you're ready to eat.
Meanwhile, melt the butter in a second frying pan over a medium to high heat. When bubbling, add the cavolo nero and stir-fry for 1 minute or until it is just starting to wilt.
Add the spring onions and mushrooms along with a little salt and pepper and stir-fry for 2 minutes.
Pour in about 3 tablespoons of water, which will steam up and evaporate. When the water has all but disappeared, pour in the double cream and bring up to the boil.
Crumble in the blue cheese, reduce the heat to medium and stir until the cheese is fully incorporated into the sauce.
Stir the parsley through the creamy mushroom sauce and serve with the steak.