Spicy jerk chicken skewers with brown rice slaw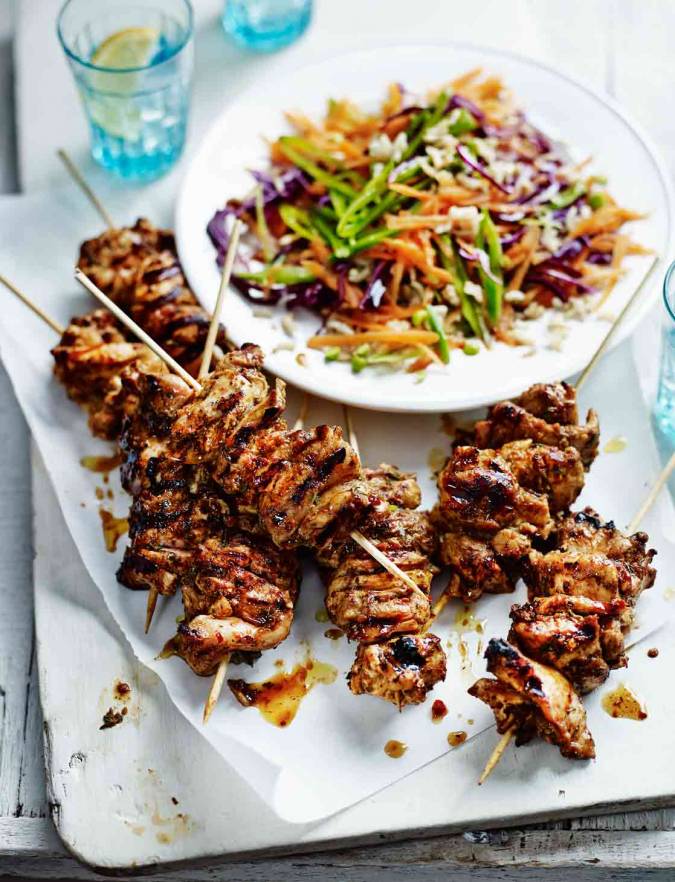 Nutritional information (per serving)
See more
Ingredients
1 x 90g jar spicy jerk paste

2 tsp thyme leaves

2 limes

3 tbsp dark soy sauce

2 tsp clear honey

4 x 150g chicken breasts, cut into chunks

3 carrots, peeled

½ red cabbage

½ x 200g pack sugarsnap peas

1 x 250g pack/ pouch Tilda wholegrain microwave basmati rice
Soak 8 wooden skewers in warm water. In a bowl, mix together the jerk paste, thyme leaves, juice and zest of 1 lime, 1 tablespoon of soy sauce and 1 teaspoon of honey. Add the chicken, stir well to coat and set aside.
Coarsely grate the carrots into a large bowl. Finely slice the cabbage and sugarsnap peas and add to the bowl. Toss altogether. In a small jug, put the juice and zest of the remaining lime, the rest of the honey and soy sauce and mix well. Set aside.
Thread the chicken onto the skewers. Heat a griddle pan ( or barbecue) until hot. Cook the skewers for 12-15 minutes, turning halfway until cooked through.

Tip

You can use chicken thighs instead of breast for a cheaper, juicier dish - but it will be slightly higher in fat.

If you'd like this to be a gluten-free recipe, please ensure your soy sauce is guaranteed gluten-free.

Heat the rice according to the instructions. Pour the dressing over the slaw, add the warm rice; toss altogether. Serve the chicken.