Sesame roast chicken with tomato gravy
---
Prep time: 20 mins
Total time: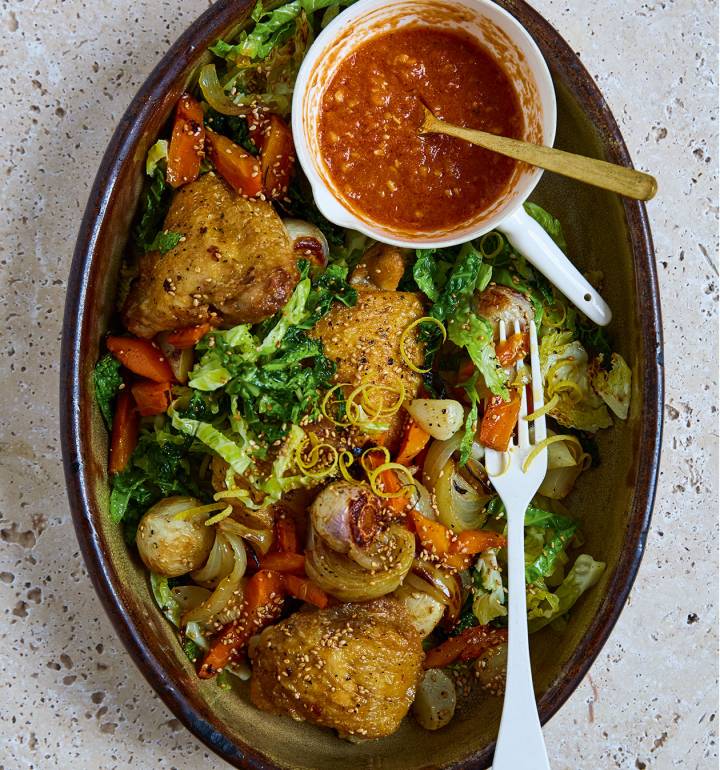 Recipe photograph by Nick Hopper
Sesame roast chicken with tomato gravy
Jasmine Hemsley gives Sunday roast an Eastern twist, fragrant with sesame, ginger and cardamom
---
Prep time: 20 mins
Total time:
---
See more recipes
---
Nutritional information (per serving)
---
Ingredients
2 tbsp ghee, melted
4 chicken thighs, bone-in and skin-on
2 small shallots, halved and peeled, or ½ leek or 1 medium onion, roughly chopped
4 carrots, cut into 2cm batons
4 small turnips, cut into 2.5cm wedges
1 tsp lemon zest
1 tbsp sesame seeds
½ savoy cabbage, cored and sliced into ribbons
For the tomato gravy
2 tbsp ghee
2-3 garlic cloves, crushed
200g tomatoes, skinned, deseeded and roughly chopped
2 bay leaves
seeds of 4 cardamom pods, ground
1 tsp ground cumin
1.5cm piece root ginger, chopped
Step by step
Preheat the oven to 200°C, fan 180°C, gas mark 6. Put 1 tablespoon of the ghee in a large roasting tray. Add a pinch of salt and pepper, and put in the oven to heat for a few minutes.
In a large bowl, toss the chicken thighs, shallots, carrots and turnips with the remaining ghee, lemon zest and 1⁄4 teaspoon each of salt and pepper.
Arrange the shallots, carrots and turnips in the roasting tray so that they are evenly spread out, and put the thighs on top, skin-side up. Put the tray in the oven and roast for 30 minutes, then turn over the vegetables and continue roasting for another 15-20 minutes until the chicken juices run clear and the vegetables are tender.
Toast the sesame seeds in a dry pan until golden and fragrant. Scatter the cabbage ribbons and toasted sesame seeds over the chicken and vegetables, and return them to the oven for another 10 minutes.
Meanwhile, to make the tomato gravy, melt the ghee in a medium pan, and stir in the garlic and tomatoes. Sauté for 2 minutes or so, then add the bay leaves, cardamom, cumin, ginger and 85ml water, and bring to the boil. Cook for about 20 minutes, then remove the bay leaves and blend until smooth. Taste, adjust the seasoning, and keep warm until ready to serve.
Put the thighs on a platter, then toss the vegetables in the juices in the tray and serve alongside the chicken, drizzled with the tomato gravy.

Recipe extracted from East By West: Simple Recipes For Ultimate Mind-Body Balance by Jasmine Hemsley (Bluebird, £25).

If you like your chicken skin to be crispy, put the roasting tray under the grill for a few minutes before serving.

To skin and deseed a tomato, mark a cross in the base of each one. Cover with boiling water and leave for 1 minute. The skin should then peel away easily. Cut in half and use a teaspoon to scoop out the seeds.
Don't miss

---