Salmon and watercress chilli pesto pasta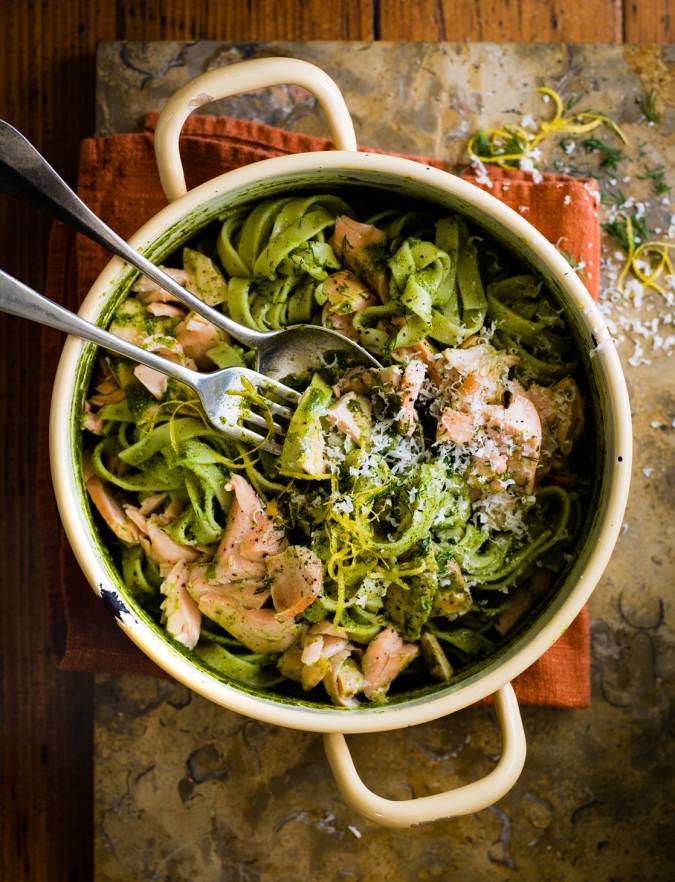 Nutritional information (per serving)
See more
Ingredients
1 x 80g bag watercress, any thick stalks removed

1⁄2 x 25g pack fresh dill

1 red chilli, deseeded and chopped

1 large garlic clove, chopped

20g toasted hazelnuts or almonds, chopped

100ml olive oil

30g finely grated Parmesan or pecorino

squeeze of lemon juice, plus zest to serve

2 x 260g packs salmon fillets

300g dried pasta, such as tagliatelle or linguine
Put the watercress, dill, chilli, garlic and nuts into a food processor. Pulse to a coarse paste. Drizzle in the oil and add half the cheese. Pulse again until smooth. Stir in the remaining cheese and season to taste with lemon juice, salt and pepper. Scrape into a bowl and set aside.
Put the salmon fillets in a pan large enough to fit them in a single layer. Cover with cold water, bring to the boil, then cover and turn off the heat. Leave for 5-6 minutes or until cooked to your liking. Remove with a slotted spoon and flake thickly, discarding the skin.
Meanwhile, cook the pasta in a large saucepan of boiling salted water for 8 minutes or until al dente. Drain, return to the pan, and fold through the watercress pesto and salmon. Season with black pepper and sprinkle with lemon zest to serve.
Lovely with a salad dressed with hazelnut oil and lemon juice